Howard: U.S. has point to prove vs. Honduras
SALT LAKE CITY -- The way U.S. goalkeeper Tim Howard sees it, the biggest thing standing in the way of his team getting a win against Honduras in Tuesday's World Cup qualifier in suburban Sandy, Utah (9 p.m. ET, ESPN/ESPN3/WatchESPN), isn't the depleted Catrachos. It's the U.S. players themselves.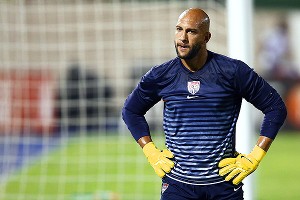 Streeter Lecka/Getty ImagesTim Howard is looking to pick up his second consecutive clean sheet for the U.S. Tuesday against Honduras.
With two wins in their first two qualifiers this month -- in Jamaica on June 7 and last week over Panama in Seattle -- it's clear the Americans come into the match riding high. That is why it's up to Howard and fellow veterans Michael Bradley and captain Clint Dempsey to make sure the Yanks, many going through their first World Cup cycle with the national team, keep their feet on the ground.

"I think that's what you have to guard against, that complacency -- being like, 'We got the six points, it's OK if we draw,'" Howard told reporters at the team hotel on Sunday. "You don't want that. You still want to have that same urgency we had in Jamaica, and those same jitters thinking, 'Wow, we have to get some points here.' It's important to have that here at home."

-Castillo has challenge replacing Beasley
-Honduras hobbling into match
-Videos: Replacing Beasley - Qualifying early?

There's no doubt about the importance of securing a victory. With Jurgen Klinsmann's team already two points clear of second-place Costa Rica, a win would all but assure a top-three finish in the six-team final-round standings with four matches left to play.

"If you look at what the table looks like, three points puts one foot in the door," Bradley said after last week's win. "So we have to step on the field with the same mentality, the same commitment, the same aggression knowing that three points puts us in a great spot."

It's hardly a foregone conclusion. Honduras beat the U.S. 2-1 in the Hexagonal opener back in February, and even though the visitors will be missing at least five players who started against the U.S. in San Pedro Sula -- Victor Bernardez and Luis Garrido are out because of yellow cards, Oscar Boniek Garcia and Maynor Figueroa are injured and Jerry Bengtson, who scored the late winner for the Hondurans last time out, has been sent back to the New England Revolution of MLS -- the Catrachos still pose a significant threat.

On the other hand, the U.S. is eager for the opportunity to exact some revenge against an opponent it believes it shouldn't have lost to four months ago.

"I thought that for the most part we did fine in Honduras -- it was just that mishap at the end," defender Omar Gonzalez said of the play that led to Bengtson's goal. "Now we're at home and I think we can play much better than we did that day. If we come out and stay organized and stay true to what Jurgen told us to do, then I think that there's a high possibility of us coming away with three points."

It will help that the U.S. squad is more cohesive, experienced and, yes, confident, than it was then.

"I think on the day we were a little bit naive, maybe not expecting them to come at us the way they did," Howard said Sunday. "Since then I think we've put a lot of things right. We've not been nearly as naive. We've pressed teams, we've tried to smother them by being strong physically, and obviously using the ball and making that work for us in the attack. That part's been really good since that game."

Avoiding a letdown will be the trick. Howard admitted there's "no pressure" on the Yanks because "when you're winning, things feel easy." It's something that could actually work against the U.S. heading into this game, but only if the Americans let it.

"There has been a sense of urgency," Howard said. "It's something we want to keep going."

Notes

-- Nine U.S. players are carrying a yellow card: Bradley, Dempsey, Howard, Jozy Altidore, Matt Besler, Geoff Cameron, Brad Davis, Brad Evans and Fabian Johnson. If any picks up another Tuesday, he would miss the Americans' next game in Costa Rica on Sept. 6.

-- Should Altidore score Tuesday, not only would it mark his first career four-game scoring streak for club or country, it would also tie him with DaMarcus Beasley and Earnie Stewart -- director of Altidore's Dutch club AZ Alkmaar -- for seventh on the national team's all-time list.

-- Honduras has just one win in five away qualifiers this cycle. Los Catrachos lost both road games (Costa Rica and Panama) they have played in the final round.

ESPNFC's Jeff Carlisle and Paul Carr contributed to this story.