Recent U.S. outcast Timothy Chandler hoping for another chance
Cristiano Ronaldo, Andre Ayew and Marco Reus.

At next year's World Cup, the daunting trio of versatile attackers will test and try to exploit the U.S.'s biggest weakness: the team's flank defending.

On the left side, the Yanks should be able to rely on the solid pair of DaMarcus Beasley and Fabian Johnson, but it's the right side that causes some concern.

For the past two World Cups, the right-back position was a formality as the ever-dependable Steve Cherundolo used his experience and success at Bundesliga side Hannover 96 to man the position with stellar results. But age has finally caught up to the Rockford, Ill., native, now 34, and a spate of injuries to the veteran has forced U.S. head coach Jurgen Klinsmann to experiment with a variety of other options.

He converted a longtime defensive midfielder in Brad Evans to the role with adequate results and even called up Nottingham Forest's Eric Lichaj to see how he'd perform. But there's one option that Klinsmann has seemingly refused to try, and it has many U.S. soccer fans wondering this very question: Whatever happened to Timothy Chandler?

Klinsmann was unavailable for comment at the time of publication but the player himself isn't exactly sure why he hasn't recently been afforded an opportunity to show how he can help the Stars and Stripes.

"I haven't heard from him, I don't know what's going on," Chandler told ESPN FC via telephone, before adding a few moments later: "It's been two or three months, that's the last contact that I've had with him."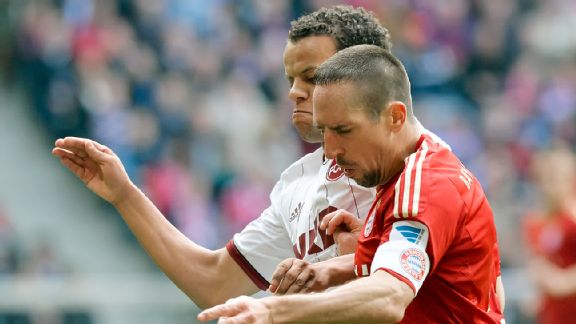 Guenter Schiff Mann/AFP/Getty ImagesTimmy Chandler regularily goes up against talented players in the Bundesliga, including Ballon D'Or nominee Franck Ribery.
At 23 years old, the natural right-back has been a starter at Bundesliga side FC Nuremberg for the past three seasons, gaining experience while facing some of the most potent offenses in the world at Bayern Munich and Borussia Dortmund. He has good size for a full-back (6-foot-1) and blessed with an abundance of pace that few players of that height have. Unfortunately, in the case of Chandler, the reasons he hasn't been called up in several months aren't entirely clear.

In attempt to get a straightforward answer on the topic, ESPN FC reached out to coaches and players (both former and current) attached to the U.S. in a bid to get some perspective. None were willing to discuss the topic on the record -- a telling sign of Chandler's current status. It's almost as if his name is a forbidden word among the ranks of the Stars and Stripes. However, he isn't exactly without fault.

Since his debut in 2011, the German-American has easily been the most polarizing player on the U.S. squad.

See also:
- Scouting USA: Does Chandler deserve another U.S. chance?
- Uersfield: Cherundolo hopes to help U.S. in Brazil
- Davis: Figuring out the right-back situation

Maybe it was the two years of stalling his decision to become cap-tied, which most outsiders attributed to his waiting for a chance to play for Germany (he adamantly denied that in an interview earlier this year, telling me it had to do with the extensive travel required). Still, his unwillingness to commit wholeheartedly definitely soured his relationship with U.S. fans who made it clear that they didn't want a wavering player among their heroes.

And his uninspired World Cup qualifying debut in Honduras in February didn't help matters.

However, could Chandler's absence simply be down to form?

A source from the U.S. camp indicated that Klinsmann's decisions to leave out Chandler have been based on performance. Normally a mid-table side, Nuremberg is still searching for its first win this season and is currently battling relegation in 17th place. Despite Chandler's decent stats this year, contributing two assists, German publication Kicker has graded his performances as a 4.25 out of 6, which ranks him 59th out of 79 players in the Bundesliga on defense. It's plausible, but probably likely that a combination of all of the factors mentioned have played against him.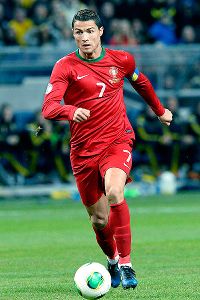 Jonathan Nackstrand/AFP/Getty ImagesUp against the likes of Cristiano Ronaldo in next year's World Cup, the U.S. will need all the help it can get on defense.
After all, being in a relegation battle hasn't stopped Klinsmann from calling up Jozy Altidore this year (though he has had a solid 2013 for the national team) and didn't stop him from looking Brad Guzan's way last year either. Plus, one would have to imagine average performances in the world's second-best league hold some weight over solid performances in England's second tier or in Major League Soccer.

However, Chandler hopes that his recent absence is solely down to team form.

"When you don't play good and your team isn't playing good, if there's guys who are playing better, they'll get a chance to play on the national team," he said.

Chandler also revealed, contrary to some reports, that his poor performance against Honduras wasn't necessarily the reason he hasn't been called up over the past few months, as Klinsmann had called him up before he suffered a torn knee ligament that forced him out for six weeks. But since then, Chandler hasn't received a callup.

Still, he has no regrets over deciding to become cap-tied in February, his only U.S. appearance this year.

"No, not at all," he insists. "I'm very happy with my decision."

He added, "When I go to the national team, it's like a family. I talk with everyone and hang with everyone. They are very friendly all the time."

While some would expect some bitterness over Chandler's U.S. absence, at least publicly, he appears to be very positive and proudly states that he's watched all of the team's games this season.

"They are playing very good soccer," he said. "They aren't just countering anymore. They play very good together, the chemistry is good."

But he is also very quick to admit that he wants back in, yet knows the only assured way he can return is to get his club back to winning ways and improve his production.

The son of an American serviceman and German mother pointed to Die Legende's decision to bring in a new coach, Gertjan Verbeek (coincidentally Altidore's former manager at AZ), as the reason things will improve over the next few months. The Dutch coach likes his full-backs to participate on offense and the speedy right-back is excited to get back to what he does best.

"The last few games, I've played very good," he said enthusiastically. "I think I'm back to the old Timmy Chandler from the past few years.

"I think I can bring a lot of things from Germany and the Bundesliga to the [U.S.] squad. I have 90 games [at Nuremberg] and I think I can help," he said. "Ultimately, it's all about winning ... I think when I play good, Klinsmann has to invite me."

Considering the arduous task ahead for the U.S. in Brazil, it may be prudent for Klinsmann to have another glance at his sometimes controversial right-back.