USMNT Hot List: Altidore, Howard heating up, Shea cooling down
John Rieger/USA TODAY SportsCan Benny Feilhaber's MLS Cup success gain him a trip to January camp?
When Saturday's epic MLS Cup final was over, champagne-drenched U.S. regulars Matt Besler and Graham Zusi of Sporting Kansas City were celebrating with the trophy as Kyle Beckerman and Nick Rimando -- two of RSL's top performers at frigid Sporting Park -- were left wondering what could have been after losing the title on penalty kicks.

But none of what happened Saturday will matter next summer, when the four are expected to be teammates on the U.S. World Cup squad. And with six months to go until Brazil 2014 kicks off in June, is there a chance any of the other participants from the MLS finale will be on the Americans' 23-player squad to the planet's biggest sporting event?

In truth, probably not. Few spots on Jurgen Klinsmann's roster remain up for grabs at this stage, and few opportunities to experiment remain. Yet six weeks ago, Klinsmann conceded that a surprise or two is possible, and no player has improved his stock more than SKC's Benny Feilhaber.

Feilhaber was once among the most promising youngsters in the American game, and he played a super sub role at the 2010 World Cup. Now 28, he's entering the prime of a career that hasn't quite gone to plan; the playmaker's last U.S. call-up came almost a year ago. Here's what the U.S. boss had to say about Feilhaber in January, at the national team's annual year-opening camp:

"He can be a difference-maker," Klinsmann told ESPN Insider then. "The question is, how often are you a difference-maker?

"Does he have the talent? Absolutely. A lot of players do. But at the next level, you have to show that on a consistent basis and be constantly involved in the game."

This season, playing under former U.S. captain Peter Vermes with SKC, Feilhaber's consistency improved. So did his fitness, something that frustrated his coaches -- most notably former U.S. boss Bob Bradley -- in the past. But Klinsmann and Vermes speak often, so you can be sure Klinsmann is aware of Feilhaber's renewed dedication and the resulting progress. Now, a call-up next January seems possible.

Even if it happens, Feilhaber faces an uphill battle to stick around for the main event. But it's not impossible.

Other attacking options, such as Sacha Kljestan and Mix Diskerud, have yet to lock themselves in. If Feilhaber's chance comes, his play for SKC this fall will be the reason why.

With the MLS season in the books, the focus shifts overseas for the rest of 2013. Here are five Europe-based national teamers who are trending up (or down) this week.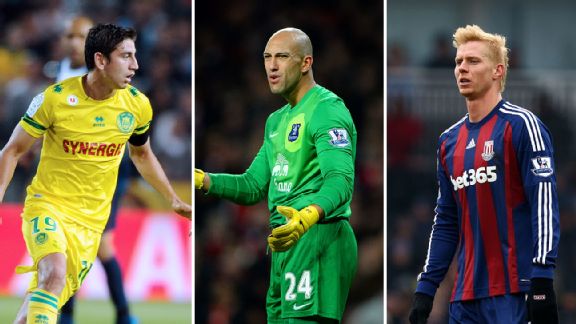 Jean-Sebastien Evrard/Getty ImagesAlejandro Bedoya and Tim Howard have plenty to be happy about but Brek Shea will likely need a move away from Stoke to secure a trip to Brazil.
Warming up

Jozy Altidore, F, Sunderland (England)

Why he's here: After scoring his long-awaited first of the season last Wednesday, Altidore made his second straight start against Tottenham on Saturday.

What this means: What a difference a goal makes. The 24-year-old clearly took confidence from his strike against Chelsea; he was active and his passing sharp in a hybrid attacking midfield/second forward role vs. Spurs. The Black Cats continue to struggle, but Altidore should keep his spot in the lineup at West Ham on Saturday.

John Brooks, D, Hertha Berlin (Germany)

Why he's here: Making his first start since September, the young center back helped Hertha keep a clean sheet away from home in Sunday's 2-0 victory over Eintracht Braunschweig.

What this means: Manager Jos Luhukay has taken a conservative approach with Brooks during his first Bundesliga campaign, giving the 20-year-old extra rest after international duty and an early-season arm injury. But the Dutch coach is high on the German-American, who could play a more prominent role after the winter break. If he does, Brooks will have a chance to push presumed U.S. starters Matt Besler and Omar Gonzalez in the final months before the World Cup.

Alejandro Bedoya, M, Nantes (France)

Why he's here: Bedoya has goals in consecutive Ligue 1 matches for Nantes. On Sunday, his first-half tally stood up in a 1-0 win at Marseille.

What this means: The Floridian's miss against Monaco last month cost the Canaries a point, but it didn't impact his playing time. In three starts since, Bedoya has rewarded coach Michel Der Zakarian's faith, while simultaneously staying neck-and-neck with Graham Zusi on the national team's right wing depth chart.

Tim Howard, GK, Everton (England)

Why he's here: Howard helped the Toffees to a memorable week: Wednesday's shutout win at former club Manchester United, and Saturday's 1-1 draw against Premier League-leading Arsenal.

What this means: Only the Gunners have allowed fewer goals than fifth-place Everton this season, thanks in large part to the longtime U.S. No. 1. Of EPL keepers who've played more than 11 matches this season, only three boast a better save percentage than Howard's -- probably why cries for Aston Villa's Brad Guzan to replace the veteran in the U.S. net have disappeared.

Cooling down

Brek Shea, M, Stoke City (England)

Why he's here: The hope was that Stoke boss Mark Hughes wouldn't hold the Texan's ineffective, 32-minute cameo against Everton on Nov. 30 against him, but Shea failed to make Hughes' bench for the Potters' two most recent games.

What this means: With Shea's prospects for Premier League playing time looking grim, the 23-year-old's chances of cracking Klinsmann's World Cup roster may hinge on an early 2014 loan to England's second tier.