U.S. furious at controversial call but encouraged by new mentality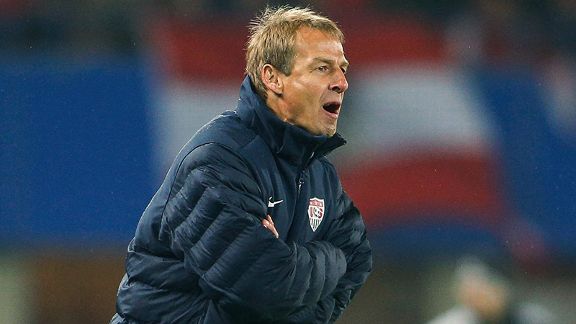 Christian Hofer/Getty ImagesJurgen Klinsmann was furious that the U.S.'s goal wasn't counted and based on some replays, he could be right.
VIENNA -- The result was altogether meaningless, but Jurgen Klinsmann and his players were still fuming long after the match was over.

A 1-0 loss to Austria in the Ernst Happel Stadion Tuesday night marked a disappointing end to a record-setting year for the U.S. Yet, the final score was only part of the reason the Americans' normally cheery coach was riled up after the game.

"It's a friendly so I don't want to make a big deal out of it, but I'm still asking why we're in 2013 without goal-line technology," Klinsmann, still visibly upset that a decision made by the Hungarian officiating crew may have cost the Yanks a legitimate early lead, told reporters in his postgame news conference. "It's a joke."

The controversial non-call came in the 17th minute, when Geoff Cameron headed Michael Bradley's corner kick toward goal, a shot that then glanced off the arm of Austria's Marko Arnautovic and changed direction.

Television replays were inconclusive -- one camera angle appeared to show that the entire ball entered the net behind home keeper Robert Almer; from another, it looked like Almer just managed to claw it away before it crossed the threshold.

In or not, penalty or not, the American players mostly seemed upset with themselves afterward.

With a 16-4-3 record in 2013 -- 13 wins was the previous benchmark -- it should surprise nobody if the Yanks' success has caused them to become sore losers this year.

Don't be fooled by that sentence, folks: Abhorring defeat is a hugely positive trait for any team, particularly one heading into a World Cup.

The U.S. will play just two more games before Klinsmann names his roster for Brazil 2014, an early February friendly in Southern California and another in Europe about a month later. That meant Tuesday's relatively low-profile exhibition had an added level importance, particularly for players still vying for spots in the starting lineup or on the final 23-man roster.

"I thought we played much better tonight than we did against Scotland," Cameron said, referring to the spirit-crushing scoreless draw in Glasgow four days earlier. "Austria is a good team. They have some good players. I thought we had the majority of the play and the majority of the opportunities. It's just unfortunate."

Cameron made a rare appearance for the Yanks at right back, the position he plays for Premier League club Stoke City. Klinsmann has said repeatedly that he prefers the rangy defender in the middle, but a groin injury to regular starter Brad Evans gave the versatile Cameron a chance to show off his growing comfort on the outside, and he was probably the visitors' best player.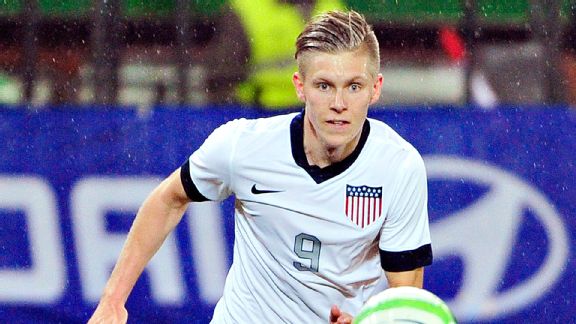 AP Photo/Hans Punz
Promising young forward Aron Johannsson, making just his second start for the U.S., had a quieter outing. The 23-year-old was deployed behind target man Jozy Altidore in the hybrid midfield-striker role usually occupied by Clint Dempsey, who missed both games after straining a calf muscle during training last week. Johannsson wasn't happy after the match, either.

"It really [stinks] to lose the last game of the year," he said. "We wanted to win this game but I think overall today we showed we're a better team than them. But they were more clinical in front of goal and they scored."

To be fair, it's little wonder that the Yanks offense sputtered in Europe without Dempsey and Landon Donovan, who is recovering from an ankle issue. And the absence of its two best attackers always figured to highlight mistakes in the back.

Indeed, the game's decisive moment came when defender John Brooks, 20, missed a clearance on the counterattacking sequence that ended with Marc Janko's 33rd-minute winner. Overall, though, Klinsmann insisted he was pleased with the way the imposing Bundesliga prospect performed in just his second international start.

"Both center backs, Omar [Gonzalez] and John, had a very good game," Klinsmann said. "John is growing into this role and in this group. I think the qualities he's bringing to the table are tremendous, and he's only 20 years old. He's only starting his career."

Still, some genuine concerns remain. Klinsmann cited wing play as a particular deficiency Tuesday -- hardly a ringing endorsement of Alejandro Bedoya or Brek Shea, who struggled in a starting role after impressing off the bench in Scotland. But the coach said he got what he wanted to from the trip despite the loss.

"It was a good 10 days," he said. "It was interesting to see the players compete in training as well as obviously in two games."

A stronger-than-usual January camp will be the national team's next chance to tighten up the places it needs to. By then -- with the World Cup draw looming Dec. 6 -- the Yanks already will be be deep in preparations for their three group-round foes next summer.

"We continue to make progress," midfielder Michael Bradley said. "There's a feeling in this group that there's still a lot of things to improve on. When you step on the field in a World Cup, you've got to be standing in the tunnel before the game knowing that you're going to come away with the result. And I think that confidence is coming."

After all, a big part of winning is not knowing how to lose.