Jurgen Klinsmann still trying to figure out United States defense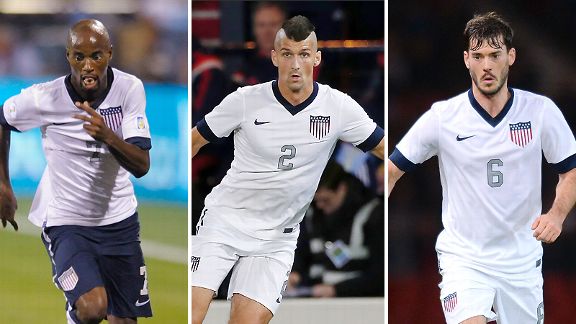 USA TODAY Sports, AP Photo, Getty ImagesJurgen Klinsmann continues to tinker with his U.S. defense, which has seen him experiment with different players to find the right fit.
VIENNA -- No matter what happens when the U.S. squad plays its final game of 2013 here against Austria at Ernst-Happel Stadion on Tuesday, it has already been a banner year for the national team.

The Americans are guaranteed their best winning percentage in a calendar year regardless of the result of the friendly. They've also set records for total wins and goal differential, and last month they topped the CONCACAF region in World Cup qualifying for the third consecutive time, surrendering zero goals in five final-round games at home.

For a team with a back line that remains in flux, that last stat might be the most impressive of them all. Four years ago, the U.S. hurtled toward the planet's biggest sporting event with a highly experienced defensive corps. Since then, though, aging veterans Carlos Bocanegra, Jay DeMerit and Oguchi Onyewu have moved on, and soon-to-be-35-year-old right back Steve Cherundolo's international future remains uncertain following multiple knee surgeries over the last 12 months.

The attrition has forced coach Jurgen Klinsmann to blood a host of newcomers over his 27 months at the helm, thrusting standout MLS center backs Matt Besler and Omar Gonzalez into prime-time roles, and converting two career midfielders, DaMarcus Beasley and Brad Evans, into outside backs. During qualifying, that seemed to be Klinsmann's preferred foursome. But six months from the start of Brazil 2014, the U.S. boss insists that others remain very much in the mix.

"By no means are things set in stone," Klinsmann said when asked about the defense Monday during his prematch news conference.

"We keep our options open, giving thought to how many guys we can give an opportunity to make an impression. Hopefully we can give some opportunities tomorrow night."

The list of those hoping for precious minutes against Austria includes Geoff Cameron -- who, with Sporting Kansas City's Besler still involved in the MLS playoffs, started in the middle in last week's drab scoreless draw in Scotland -- and youngsters like John Brooks, Eric Lichaj and Michael Orozco.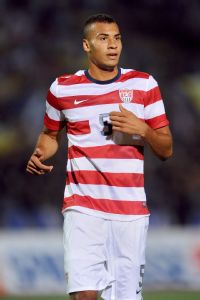 Press Association/AP PhotoJurgen Klinsmann hopes these friendlies will give John Brooks valuable experience.
But no matter who gets the nod Tuesday, experience will be thin in the back. It's been that way during much of Klinsmann's tenure -- a reality that has forced keeper Tim Howard to change his approach significantly compared to the lead-up to the 2010 World Cup.

"It was a little easier last time around because when you have experienced guys, oftentimes you don't need a lot of conversation; this cycle, we're having to do a lot more teaching," Howard said. "I've tried to be very demanding of this current group. Even when we get a clean sheet, rather than pat each other on the back and say it's been brilliant, I say if this or that had gone wrong it could have been 2-0 against us. I've stayed on top of their every single movement, because now we don't have four years to get it right. We have probably four games."

That includes Tuesday's match, which will provide another rare test against a physical European foe.

As stingy as the U.S. was during the Hexagonal -- the Yanks conceded eight goals in the 10 games -- the defense was porous in summer friendlies against Belgium. Germany and Bosnia-Herzegovina -- teams ranked in the top 15 in the world. Winning two of those matches papered over some of the defensive lapses, which resulted in nine goals against over the three games.

The sometimes-shaky displays left some to wonder whether the revamped back four will be up to the task in Brazil. Still, fullbacks DaMarcus Beasley and Brad Evans, who both still play in the midfield with their clubs, performed as well in those games as they did in the qualifiers.

Beasley has always been a tenacious defender. And he's worked hard to improve since winning the starting job on the left last March.

"I'm still learning," he said. "The biggest thing, I think, is positioning. Playing in the back line is different because you have to watch where you go, where you step. One yard can make or break a game."

On the other side, Klinsmann makes it clear that it's Evans job to lose, and he hasn't come close yet. But the Seattle Sounder could face his most difficult test yet Tuesday against Bayern Munich speedster David Alaba, who is likely to be deployed on the left.

There's more uncertainly for the U.S. in the middle. Gonzalez admits that the revolving door at center back -- the LA Galaxy star has partnered Besler, Cameron, Orozco and Clarence Goodson this year -- has made developing cohesion tricky at times.

"At the beginning, when you haven't played with guys, you don't know their tendencies," Gonzalez said "So to come in here and get another two games with them is going to help in the long run. The more games you can get together the better off you're going to be."

The difficult moments are simply part of the process, according to Howard. But the time for learning is growing short. At this stage, the kinks need to be ironed out, and there isn't much time left to do it between now and next June. How successful the U.S. is at getting its green back line up to speed in the coming months could determine how far it goes in Brazil.

"Center backs get better with experience -- it's only natural to make mistakes," Howard said. "But there is no margin of error when you get to the World Cup. At the highest level, you will get found out pretty quickly."

NOTES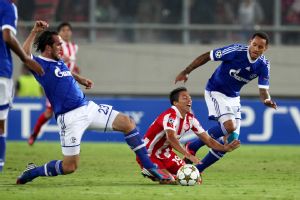 AP Photo/Thanassis StavrakisJermaine Jones will face Bundesliga teammate Christian Fuchs in Wednesday's friendly.
• Tuesday's match will be the 25th the Americans have played in 2013. The Yanks have played more games in a single year only twice before, in 1993 and '94, when the national team was in residency leading up to the 1994 World Cup. "It's been a long year, an exciting year," Klinsmann said. "We want to finish it in a good way while also respecting a very good Austrian side. We know it's going to be a lot of work."

• After failing to qualify for UEFA's World Cup playoffs, Austrian coach Marcel Koller named a rebuilding squad for the match against the U.S. Just four players on the roster are over the age of 30. Still, the Austrians have experience. Six players play for Bundesliga clubs, including captain Christian Fuchs, a teammate of Jermaine Jones at Schalke. "We were texting this week," Jones said Monday. "They're a young team that wants to finish this year with a win at home. We have respect for them, but we want to win too. Hopefully we can do that."

• Jones isn't the only American who could be going head-to-head with a club teammate Tuesday. Midfielder Marko Arnautovic plays with Cameron at Stoke City, while Marcel Sabitzer and U.S. striker Terrence Boyd are both with Rapid Vienna.