Sacha Kljestan willing to adapt to stay in Jurgen Klinsmann's U.S. plans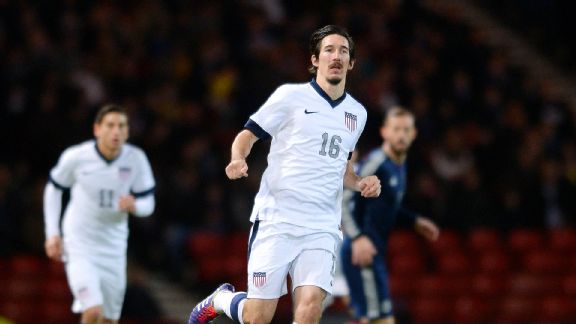 Mark Runnacles/Getty ImagesSacha Kljestan is hoping his versatility as a midfielder will earn him a ticket to Brazil next year.
GLASGOW -- For many of those who aspire to play in next summer's World Cup in Brazil, it's not about where you're placed in the 23-man roster, just that you make it. Sacha Kljestan is one of those players on the U.S. men's national team camp who's in that position.

One of the final names to be stricken from the roster ahead of the 2010 World Cup, Kljestan has not been weighed down by the rejection -- thriving with Belgian side Anderlecht, winning league titles and making him a difficult player to omit, even as a backup.

Speaking on his situation last week, Kljestan said: "I've expressed to [coach Jurgen Klinsmann] that I feel comfortable in that substitute's role when the game is getting late, and maybe I can get in and get forward maybe a little more than Jermaine [Jones] or Michael [Bradley] can."

The 28-year-old also feels his growth has not been confined to the field:

"As I've gotten older, I've put less pressure on myself," he explained. "I know I'm a couple notches better than I was in 2010, but all I can do is give everything I have."

Performing well during his third year at the Brussels-based club (despite Anderlecht struggling through a rebuilding year) Kljestan also competes in the UEFA Champions League -- a niche among American players, given there are only two in the competition.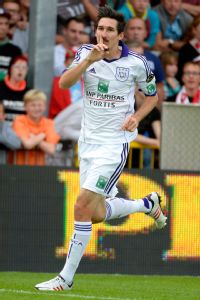 Jimmy Bolcina/Getty ImagesSacha Kljestan continues to impress for Belgian giant Anderlecht as a defensive midfielder.
Operating in a central role or as a defensive midfielder for Anderlecht, at international level Kljestan remains a backup in both positions due to the strength of Bradley and Jones (the latter being the other Champions League representative). Barring injury, deposing either ahead of the World Cup is unlikely, meaning the former Chivas USA man will need to find an additional set of unique selling points -- one of which could be versatility.

Kljestan was selected to play in a more advanced role during Friday's friendly draw with Scotland, a decision Klinsmann shared with the 28-year-old during Thursday night's training session at Hampden Park.

Speaking on his new role after the game, Kljestan said: "It felt good. I was happy to learn that I was starting in a position I like, although I haven't played a lot there the last three or four years."

Granted a 63-minute audition, at first he struggled against a Scotland side that could easily have been described as negative in their approach. Kljestan refused to place that mantle on the hosts when asked, saying: "Scotland was very organized, put a lot of guys behind the ball and it was hard to find good spaces to get on the ball close to Jozy [Altidore]. When I came deeper I got on the ball a lot, I did pretty well with my balls but it was difficult to break them down."

Allowed a further 18 minutes after halftime, his aims were simple: "The only notes for me at halftime was just to get closer to Jozy and get between the lines more but like I said it was difficult to get into that space. I think Jozy and I were a little disappointed that we couldn't link up enough."

Confirming Kljestan's suspicion, Altidore lamented the slow tempo that dogged the U.S. in the first half. Meanwhile, Klinsmann remained balanced in his assessment.

"He did OK, but it was tricky for him," he said. "His instinct tells him to drop a little bit deeper because that's what he does at Anderlecht. Suddenly we had three midfielders in the same area with Michael [Bradley, Jermaine Jones] and Sacha. That's not what we wanted; we wanted to find people in between their two lines of four."

Eventually replaced by Aron Johannsson, there was a notable improvement in Altidore's performance following Johannsson's arrival on the team, with Klinsmann revealing afterward, "That's something we've been working on. Even from the beginning, when we've been bringing [Johannsson] on as a sub."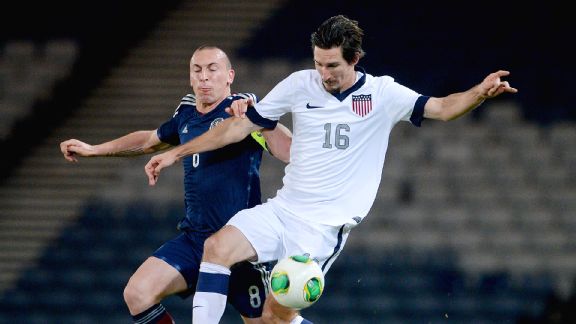 Mark Runnacles/Getty ImagesSacha Kljestan has developed into a good holding midfielder but will need to focus on the offensive side of the game to impress Jurgen Klinsmann.
However, there were still shades of potential in Kljestan's performance. A neat flicked pass to Altidore in the 15th minute climaxed in what would have been a great chance for Eddie Johnson, but for a last-minute intervention from a Scotland defender.

Of course, even at attacking midfield, Kljestan has intense competition. Clint Dempsey and Landon Donovan (both of whom missed the game) are arguably in first and second place for the position, with Mix Diskerud and Alejandro Bedoya also potential options. However, as Anderlecht's recent game against Paris Saint Germain showed, Kljestan does have creative potential in the final third.

Completing 19 of his 22 passes in the final third of the pitch against the cash-rich club, Kljestan created two chances during the game -- one of which led to the Belgian side's opener.

Briefly switching with Johnson outside to the left during the U.S.'s game against Scotland, the midfielder was right to feel somewhat disappointed with his performance. Yet with the fixture against Austria still to be played, along with more games in 2014, Kljestan still has a chance to firm up his spot on the roster, but he must do so quickly.

ESPN The Magazine's Doug McIntyre contributed to this report.