Brek Shea willing to do whatever it takes to make U.S. World Cup squad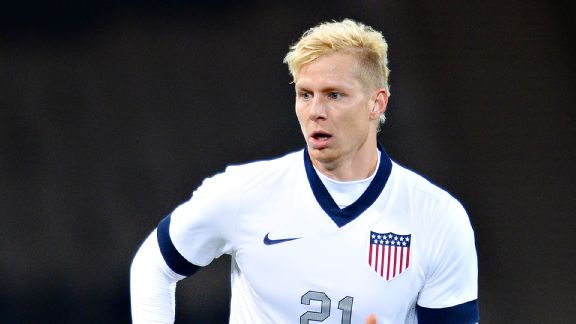 Mark Runnacles/Getty ImagesBrek Shea's impressive cameo for the U.S. on Friday vs. Scotland shows that he's still on Jurgen Klinsmann's radar.
GLASGOW, Scotland -- When Brek Shea's name unexpectedly popped up on the U.S. national team's roster last week ahead of the squad's two year-ending friendlies in Europe, more than a few eyebrows were raised.

After all, almost from the moment Jurgen Klinsmann took over the program in the summer of 2011, the Yanks' coach has preached the importance of having his players establish themselves -- at bare minimum -- as regular contributors to their respective club teams.

But although Shea -- the darling of Klinsmann's early lineups, a young, brash, MLS MVP candidate whose all-world athletic gifts allowed him to impress against powerhouse foes such as Belgium and France in late 2011 -- seemed to be on the rebound after a nightmare 2012 punctuated by the U.S. under-23 team's failure to qualify for the 2012 Olympics, his January transfer from FC Dallas to Premier League Stoke City has failed to serve as the springboard.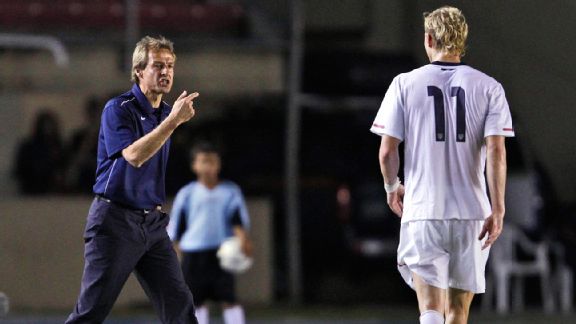 AP Photo/Arnulfo FrancoBrek Shea's unique set of skills makes him attractive to Jurgen Klinsmann.

This season, Shea hasn't played a minute in a Premier League game.

Yet, there the 23-year-old was on Klinsmann's most recent roster, apparently still in contention for a precious spot on the squad that will compete at the World Cup in Brazil next summer. For those who were wondering how that could be possible, given his struggles at club level, Shea's 28-minute performance off the bench in an otherwise forgettable scoreless draw with Scotland on Friday showed why.

"Brek brought a lot of energy to the field and did well," Klinsmann said after Shea was at the heart of the Americans' best scoring opportunities at Hampden Park. "He can create something out of nothing."

In the process, the skillful, 6-foot-4 left winger showed the qualities that have long made him a unique weapon in the U.S. player pool.

"He's big and strong, but people don't realize how fast he is," said three-time World Cup veteran DaMarcus Beasley, who played behind Shea on the left flank. "When he gets going, no one can stop him."

Of course, that's only if he gets on the field. Shea's future at Stoke appeared in doubt the moment Tony Pulis, the manager who recruited him to the Potters, was replaced by Mark Hughes over the summer.

But Shea made a good first impression on the former Manchester United and Chelsea striker after returning from Gold Cup duty with the U.S. (Shea had two game winners as a substitute in the tournament, the second in the final against Panama) before suffering a knee injury in the club's final preseason match. Since then, he hasn't been able to crack Hughes' 18.

"It's been pretty frustrating," Shea said.

Still, the Scotland game could be just the latest, most visible sign that Shea's luck is finally beginning to turn.

Earlier this season, Hughes made public his intention to lend the Texan out to a lower-division side in January. But, after Shea impressed in recent training sessions, apparently the boss had a change of heart.

"Hopefully now I can get in and play and contribute," Shea said. "I think there's a chance."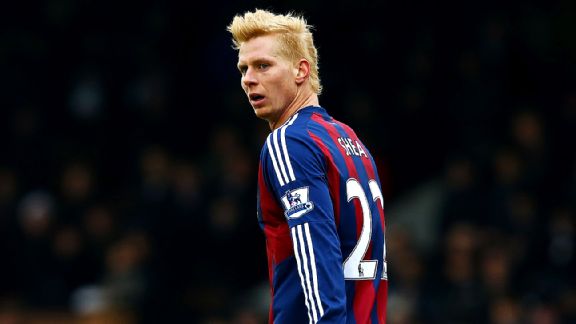 Jan Kruger/Getty ImagesSeeing minutes at Stoke hasn't been easy for Brek Shea.
Even with the World Cup fast approaching, he still has some time.

Stoke sits 17th in the Premier League standings after a promising start to the season. If the club's sputtering form isn't enough to prompt Hughes to give Shea his shot, next month's congested fixture list -- particularly around the holidays -- could offer the opportunity to get back onto the field.

If not, Shea could still be lent to a second-tier English club as late as February, giving him three full months to build up his match fitness and play his way onto the plane to Brazil.

Either way, something has to give.

"It's a World Cup year, and I can't keep sitting around and not playing," Shea said. "Whether it's with Stoke or on loan somewhere, I have to make the most of it."

By all accounts, Friday's performance was a good first step. Tuesday's match in Austria could be the next.

"I was so happy to see him back to his old self, going at people -- it's a good sign," striker Jozy Altidore said. "It's going to be an interesting few months."