Is Benteke worth 25m to Spurs?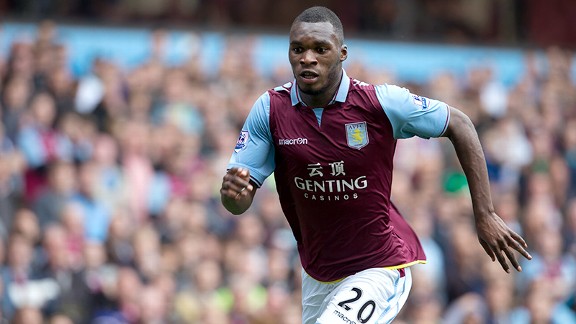 Neville Williams/Aston Villa FC/Getty ImagesTottenham target Christian Benteke scored 23 total goals last season for Aston Villa.
Spurs have sat pretty so far this summer, safe in the knowledge that Gareth Bale still has three years to run on his contract and that Real Madrid would need to pay an absolute fortune to prise him away. Now, though, Tottenham find themselves with the same problem as Madrid, as they look to sign Christian Benteke from Aston Villa.

- Spurs mull Benteke bid
- Hughes: Benteke disappointment for Villa

Like Bale, the Villa striker has three years remaining on his contract. Unlike Bale, Benteke has gone to the lengths of formally requesting a transfer in order to force through a move.

Yet it is Aston Villa who remain in the driving seat when it comes to negotiations with both Benteke and any interested clubs. In this instance, Benteke's transfer request may mean very little.

Because if Villa don't want to sell, what can Benteke do? There are two options open to the modern footballer in such a situation. One is to hang around but play so badly that the club decide to flog him before he loses value. The other, more dramatic option, is to go on strike.

But Villa have gotten lucky when it comes to the timing of this transfer request. 2014 is a World Cup year and they'll be willing to take a risk that Benteke will neither want to "do a Tevez" or "do an Adebayor" and potentially lose his place in Belgium's starting lineup.

So Paul Lambert will be able to stick to his guns and demand not a penny less than the £25m valuation that Villa have put on the player. The question then becomes whether he's worth such a fee.

There are two ways to look at it. The first is that he's definitely not. Yes, Benteke has just enjoyed a great debut season in the Premier League, but such a fee still remains a risk. He wouldn't be the first striker to score a hatful of goals before getting found out.

Andrew Johnson once scored 22 Premier League goals in his debut season. Like Benteke, he achieved this while playing for a struggling side; but Crystal Palace struggled to the extent that they actually got relegated.

It would prove to be the only season when Johnson hit 20-plus goals in the top flight, as he proved to be a mediocre force at both Everton and Fulham. There are many strikers like him in Premier League history. Marcus Stewart, James Beattie, Mikael Forssell, Juan Pablo Angel, Benni McCarthy and Roque Santa Cruz are all examples of forwards whose goal-scoring talent burned briefly before fading away.

Then there's the fact that Premier League talent is always overpriced. A £25m fee could get you the more experienced Gonzalo Higuain. Fiorentina have just bought Mario Gomez for £17m, while the same club have placed a £28m fee on Stevan Jovetic. Roberto Soldado and Jesus Navas are also on the market for a similar price.

On the other hand is the fact that Spurs are far more likely to be able to tempt Benteke to White Hart Lane than any of the strikers mentioned in the above paragraph. It's also already clear that the Belgian has the potential to be a much better player than the strikers I mentioned two paragraphs ago.

He's got everything you'd want from a lone striker in the Premier League. Benteke is big, fast, skillful and can finish with both his feet and his head. He can hold the ball up and has the work-rate to be able to chase down defenders in possession and unsettle them.

£25m is still a lot for a player so young and with just one season in the Premier League, but then you could equally argue that £80m is a lot of money for Bale. Villa don't need to sell, while Tottenham desperately need a striker.

So I think Spurs should pay the money, and Bale is actually the reason that tips the scales in the direction of that decision.

Unless Bale suffers a terrible injury, or a shocking decline in form, there's nothing to suggest he won't still be worth £80m next summer. Real Madrid aren't the only team with an interest in him, and with plenty of time on that contract, his value should remain intact.

With that in mind, this is a summer when Tottenham can really afford to take a financial gamble. If the signing pays off, then Spurs will be in an even stronger position next summer, and if it doesn't, then Bale can be sold to balance the books.

Why is it that I somehow doubt Daniel Levy will agree with this rationale?