Doubts about Villa show age always an issue in Spurs' transfer dealings
Only Spurs fans could be moaning about the possible signing of a player like David Villa.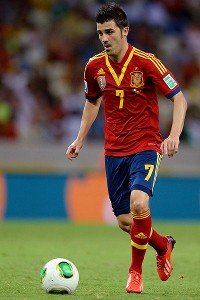 Eitan Abramovich/AFP/Getty ImagesSome Spurs fans believe David Villa is over the hill, but his recent numbers say otherwise.
The striker is the Spanish national team's all-time leading scorer. He has scored more than 20 goals in 10 of the last 12 seasons.

Yet there are Tottenham fans out there complaining that he is too old. The ones doing that are missing the point.

Villa, 31, will turn 32 during the forthcoming season. The transfer fee and salary needed to attract a player like Villa, who has been linked to Spurs since May, is a lot of money for a player of his vintage. But he is a special player.

If Villa wasn't 31, he wouldn't be interested in joining Spurs and they couldn't afford him. The club simply aren't in the market for the world's best players at the peak of their careers.

What Tottenham can do is to buy the best players in the world while they are still young and still developing, or alternatively, are slightly past their best. In recent years, they've concentrated on the former strategy and it's one that has largely paid off.

The interest in Villa is unique and surprising, but then he is a unique and surprising player. For years Tottenham have tried to land a 'world-class' striker at the peak of his powers and failed. This is a different tack and it might prove more fruitful.

Villa should still have at least a couple of seasons left in him at the top. Yes, he's 31, but a certain Jurgen Klinsmann was 30 when he joined Spurs.

The Spaniard has always had brilliant movement and that's not something that's going to desert him. The football intelligence of the world's top players allows them to carry on even when their legs are starting to fail them.

Villa is the perfect striker to make a switch to a 4-3-3 formation work. Villa can play centrally and on either flank. The thought of him and Gareth Bale swapping positions throughout a game to bamboozle the opposition's defence is an enticing one.

If Tottenham qualify for the Champions League, then the financial gamble on Villa will have been repaid. For a club such as Spurs there always has to be a punt when they sign a player.

I've heard some argue that part of the gamble on Villa is he 'injury prone.' In truth, aside from his broken leg in 2011, Villa has largely been untroubled by major injuries. He has played 40 games or more in 11 of his last 12 seasons, including last term.

Rather than question this transfer, I'd implore all Spurs fans to have faith in the club's management. If they pull off this signing then I'm pretty certain that no one will be questioning it within a couple of months.

Ironically, I've also seen the proposed signings of Tin Jedvaj and Alen Halilovic criticised, because they are too young.

The argument is the club need to be signing players who can perform right now, rather than investing heavily toward the future. That argument ignores the fact Bale wasn't too much older than the Croatians when he was snapped up.

As I've said, Spurs have to take gambles in the transfer market. Bale was a gamble. So was Kyle Walker, Michael Dawson, Sandro and Aaron Lennon.

I could also list a huge number of such gambles that didn't pay off. You just have to hope that the successes outweigh the failures. It's never an exact science, but the signing of the 31-year-old Villa is a safer bet than spending millions on teenagers.