Why Spurs won't be put out of their misery on Bale until deadline day
Spurs supporters are not going to be able to enjoy this summer. Until the moment when the transfer window slams shut and Gareth Bale is still a Spurs player, we're never going to know for sure as to whether he's off to Real Madrid.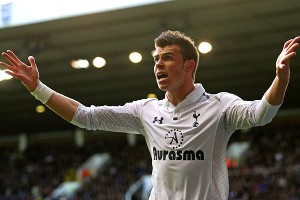 Clive Rose/Getty ImagesGareth Bale's superb season wasn't enough to lift Spurs into the Champions League.
The club have said that they don't want to sell him. Real Madrid make statements every day reiterating just how much they do want to sign him.

Bale's agent has said that a deal could be done. In fact, the only person we haven't heard from is the man himself.

If Bale wanted to stay at the club, he could just come out and say that he's got no interest in leaving. But he won't, even if he does actually want to stay -- because that would leave him in a worse bargaining position when it came to negotiating a new contract, which is what Tottenham want to offer Bale.

So Spurs fans are left in the dark as to what Bale really wants. Real have suggested that he needs to put in a transfer request to force through a move. If he were to do that, then you'd expect him to keep it between him and the club, rather than make a public declaration like Luka Modric.

Perhaps I'm being naive. After all, Modric didn't necessarily seem to be the sort of character to suddenly announce that he wanted to join Chelsea, but he made a pretty fair fist of a mercenary when he needed to.

We should never forget that players are not alone in making such decisions. They have agents jabbering in their ears, making a persuasive argument as to why now is the time to make a move (nothing to do with the 10 percent of course). Then there are the wives or partners, who quite rightfully will have their say as to whether the family should double their income and move somewhere hot.

You might think that if a deal were to happen then it would have to be done early, in order for the club to have time to spend the money, but that doesn't always prove to be the case.

If Tottenham were to receive 80 million pounds for Bale this summer, then every club they approached about a player would bump up the price. It therefore makes more sense for a deal for Bale to be done in principle and only officially announced once Spurs had done their spending.

That's why I'm not paying too much attention to assurances that Bale won't be sold. What else could they say? Admit that you wouldn't mind cashing in and you instantly give the advantage to any potential buyers.

It's all a giant game of poker in which, regardless of the cards being held, everyone is bluffing. Throw in the fact there are other players involved and it becomes even more complicated.

If Cristiano Ronaldo doesn't commit to Real Madrid, would that see them double their efforts to get Bale? If a club made a definite move for Liverpool's Luis Suarez, would Madrid decide to switch their attention to him, rather than risk losing out on both?

It's a world of ifs, buts and half-truths -- which is why nothing should be taken for granted until Spurs fans are officially put out of their misery one way or the other.