Early liveners just the tonic for Tottenham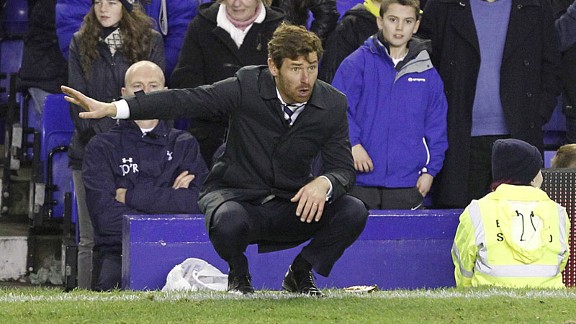 PA PhotosAndre Villas-Boas will get to test Spurs' London neighbours early on.
You'd think we'd like this time of year. It's a chance to do something a little different with our time. We could enjoy the weather, go on holiday or watch some different sports for a change.

But we don't. Instead, football fans simply spend the entire summer pining for the new season. Nothing proves this more than the weight of expectation felt when the new fixture list is released.

Fans of all clubs are on tenterhooks, desperate for the chance to peruse their games and work out how many points they should have by the end of September.

I've stopped doing the latter. I've learned from experience that things never go as planned. Spurs have been given some fairly easy starts (on paper) in recent seasons. This season is a bit different.

The opener is away at newly promoted Crystal Palace, followed by a home match against Swansea. So far, six points, but then we've been thrown a curveball in the form of a particularly early North London derby, as Tottenham travel to Arsenal on Aug. 31.

September delivers a similar sort of sucker punch. Nice winnable fixtures at home to Norwich and away to Premier League debutante Cardiff, swiftly followed by a home match against Chelsea on Sept. 28.

It might be for the best. As we all know, Spurs can often be complacent against opposition they should beat, but did pretty well in their games against the top four last season. These early derby games will ensure that the team have to fire on all cylinders rather than playing as though it's psychologically still on the beach.

Next up after Chelsea is another home derby against West Ham. These are always the first games I search for within any new fixture list. Spurs play Arsenal at home on March 15, a week after playing Chelsea away. The away game against West Ham comes on the penultimate round of fixtures, on May 3.

Then I look at key dates of important non-football stuff that might jeopardise my attendance at the game. Tottenham's Nov. 30 home match against Manchester United has already set off alarm bells, as I believe I have a family wedding to attend on the same day.

Christmas throws up a home Boxing Day match against West Brom and then another home match two days later against Stoke. Thanks for that. There will surely be no complications in securing time away from the family for that double whammy.

The Chelsea home game is perilously close to my wedding anniversary, although thankfully there seems to be no complications around the date of my wife's or child's birthdays.

Of course, it goes without saying that no one should panic should they spot a game that they might have trouble getting to see, due to the fact that the dates for the televised games have yet to be released.

So I'll be hoping that those troublesome Chelsea and Manchester United games get moved back to a Monday night, while the Christmas games get spaced out by an extra day to give me a little good will.

The changes will be announced in two weeks. There's little doubt in my mind that I will meet this release with the same enthusiasm as I have today. Basically, I want it to be August and the start of the season right now, and if there were a remote control for my life, I'd be hitting fast forward.