Bale and Sheringham proof that youth needs time to blossom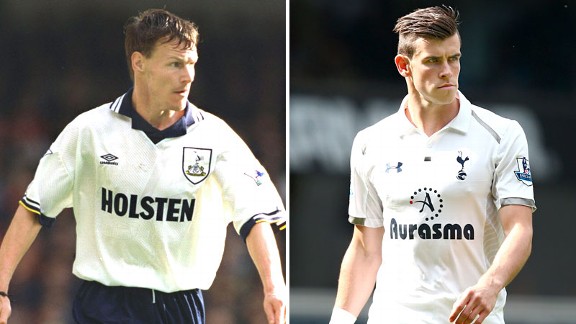 Getty ImagesTeddy Sheringham and Gareth Bale are prime examples of Spurs players who were allowed the time to grow into star footballers.
At this time of the off-season, before anyone has been bought or sold, every Spurs supporter seems to have an opinion on who should come and who should go.

When people say that Scott Parker's usefulness has ran out, or that now is the time to cash in on Jermain Defoe, then I'm inclined to agree. Those players are old enough for us all to be able to form a proper opinion on their merits.

- Modric urges Bale to join him at Madrid

What surprises me however, is how many people are willing to offer their judgment on Tottenham's very youngest players. I'm generally inclined to give the kids the benefit of the doubt, especially if they've come through the club's youth ranks, yet I've read many 'to be sold' lists this summer that have included youngsters like Tom Carroll, Harry Kane and Andros Townsend, despite the fact that they have barely played a first-team game.

It's not just Spurs fans who are guilty of this. I've noticed a general trend for young players to be written off if they're not producing the goods straight away.

Perhaps it's because so many prodigious young talents have burst onto the scene fully-fleshed in recent years. Wayne Rooney was a 16-year old man when he started terrorising defences at Everton. In many ways his game has actually regressed since those days.

Then there's the young players who really did fulfill their potential to become the world's best. Lionel Messi made his Barcelona debut at 17, while Cristiano Ronaldo's talent burned brightly enough at Sporting Lisbon for Manchester United to sign him aged 18.

Not everyone bursts out of the womb with a cracking left-foot and an innate ability to find space though. Football's history is packed full of players that took their sweet time to develop.

From Tottenham's own recent history, look no further than Teddy Sheringham. Teddy was 26 when he joined Spurs, having started his career in the old Third Division with Millwall. His early seasons included loan spells at Aldershot and at Swedish club Djurgarden.

After nine years at Millwall, Sheringham joined Nottingham Forest, where he stayed for a year before Spurs made their move. His first season saw Sheringham score over 20 league goals (something that we're still waiting for the teenage prodigy Defoe to do) and win his first England cap.

Sheringham was 31 when he joined Manchester United and 33 when he won the first medal of his career in the form of the Premier League. Don't feel sorry for him though, because within a couple of weeks he'd scored in both of United's FA Cup and Champions League wins. At 35, Sheringham was named as the PFA and Football Writers Player of the Year.

A young player at Spurs who reminds me of Sheringham is Harry Kane. I've seen plenty of Tottenham fans already writing him off as not good enough, despite the fact that he's only 19. At that age, Sheringham was enjoying that loan spell in Sweden, while Kane has already represented his country at youth levels, made his Premier League debut and played in European competition.

Then there's the case of Gareth Bale. Now rated as a player capable of breaking the world transfer record, Bale's transition from a bright young prospect at Southampton to a world class player hasn't always ran smooth.

Famously, Spurs failed to win in any of Bale's first 24 Premier League appearances. Bale was out of his teens before he could command a first-team spot at Tottenham and he only got that chance because Benoit Assou-Ekotto got injured.

Indeed, this week TV host Richard Keys claimed that Harry Redkapp was trying to sell Bale when he first took over at Spurs and enlisted his son Jamie, to ask his fellow television pundits if they could help to find a club for a player.

Redknapp's unique brand of revisionism has seen him try to claim much of the glory for putting Bale on the path to stardom, but the truth is that he came perilously close to joining Nottingham Forest before BAE's injury intervened.

Had the club decided to ship out that particular youngster before he was given a proper chance, then they would not now have one of the greatest talents in the world on their hands.

There's not much point investing money in young players if you're not also willing to match that investment with the time. Tottenham's youth policy might not produce the next Bale or Sheringham, but you'll never know for sure unless you give them a chance.