Why England shouldn't make the same mistake twice with Hoddle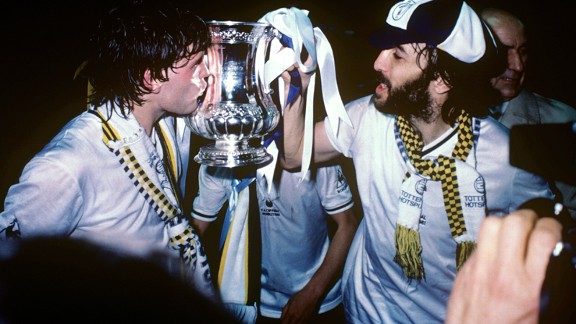 PA PhotosTottenham icon Glenn Hoddle kisses the1981 FA Cup
It's fair to say that you'll never have a bigger hero than the one you had as a kid.

For me, that idol was Glenn Hoddle. When I fell in love with Spurs, he was the team's poster boy and naturally it was his image that adorned my bedroom wall.

For those of you who are too young to see the great man in action for Tottenham, search for his name on YouTube and watch a video entitled 'Glenn Hoddle Tribute'. You will be treated to three minutes and 39 seconds of sublime skill, set appropriately, to Carly Simon's 'Nobody Does It Better'.

One drunken night I made my wife watch this video. She has little interest in football and consequently had zero interest in giving almost four minutes of her life to watching a video devoted to an eighties footballer, accompanied by a Bond theme.

But I pleaded. This video will make you understand why I love this man. He wasn't a footballer, he was an artist. She eventually humoured me by watching it. When it finished, she immediately watched it again.

I am a strong believer that you can only really judge players that you have seen play, so I remove the likes of George Best from the argument, when I say that Glenn Hoddle is the most skilful British player that I have ever seen.

Hoddle was not the best, whatever Carly Simon says to the contrary, but he was the player blessed with the most natural ability. Gareth Bale is a more effective player, but Hoddle was the sexier footballer.

He was so much better than his opponents that the game looked easy for him. Hoddle was like a matador, evading bullish challenges with a nonchalance that exposed them as mere dumb animals in comparison.

The King of White Hart Lane was on another level, so why didn't he achieve more as a player? Michel Platini famously said that if Hoddle had been born French then he'd have won 150 caps. Hoddle was held back by the English football philosophy of brawn being valued more than brain.

It was difficult to shoehorn Hoddle into a rigid 4-4-2 formation and as a result he often found himself being played out of position. These days you would hope that the team would be built around his skills, just as Andre Villas-Boas has shaped the current Tottenham side around Bale.

Yet there's much to suggest that English football hasn't particularly evolved since the eighties, especially when it comes to international level. Hoddle has hit the headlines in England recently for his withering analysis of the England Under-21 side's wretchedness, when serving as a TV pundit.

- Hoddle: Overhaul needed of Under-21s

As a result of his insightfulness, a media campaign has emerged, suggesting Hoddle as the ideal man to take over from the surely doomed Stuart Pearce. In the always connected world of the modern football media, it doesn't take long for a bandwagon to get rolling and for pundits to hitch a ride, but I'd like to think that this is more a case of an idea being presented and people realising that it's a good one.

A former manager of the senior national team, Hoddle is one of only two England coaches in my lifetime to have done a good job (the other was his predecessor Terry Venables). The reason that they succeeded, is that they both realised that England's failing is an inability to keep the ball. They built their teams to address that fact.

Hoddle is not the greatest manager that Britain has produced by a long shot, but he at least understands how the international game works and has a commitment to playing passing football. If he'd managed England for 10 years, then we wouldn't be looking back at Paul Scholes' international career as a wasted opportunity.

The big question mark over Hoddle as a manager is his man-management skills. Famously, he told David Beckham at an England training session that he wasn't good enough to pull off a free-kick routine, which Hoddle himself was perfectly able to demonstrate.

There's certainly a good old slice of ego alive and kicking in my hero. A journalist friend of mine once spent some time writing a story about the Glenn Hoddle Academy in Spain.

He told me that Hoddle would play football tennis against three or four of his academy members on the other side of the net (Hoddle was on his own) and would scarcely ever concede a point, such was his superior skill.

The most gifted players rarely become the best managers. Hoddle used to demonstrate huge amounts of confidence and ego the pitch, so perhaps we should not be surprised that he is unable to entirely put it to one side as a coach.

For all the polarising aspects of Hoddle's personality, that have held him back as a manager (we haven't even touched on his spiritualism), I still think that he'd make a fine choice to guide England's U21 side.

Through his academy, Hoddle has shown an interest in educating young footballers. That should be the job of an England U21 manager. The results that matter aren't the ones on the pitch. It's all about producing footballers who can be comfortable on the senior international stage.

Whether the players like Hoddle or not, is less relevant than if he was leading the senior side, as they would only be passing through en-route to the real thing.

In that time it's surely better for England's youngsters to learn about the movement needed to hold possession of the ball, from a man who could actually do it himself, than to listen to Stuart Pearce banging on about passion.

Having been wasted as a player by England, it would be a shame if the FA made the same mistake with Hoddle as a coach.