Baldini's history suggests he can be a Spurs success
It's still not official yet, but it does seem extremely likely that Franco Baldini is about to join Spurs as Technical Director... or Director of Football... or another title that will no doubt sound quiet impressive.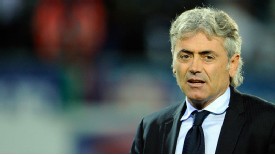 GettyImagesBaldini was Capello's England assistant
If I'm sounding vague it's because these positions still feel slightly alien within English football, where once the manager ruled over all aspects of a club.

I'm slightly nervous about the appointment, despite thinking the position a necessary one and having no reason to believe that Baldini won't be up to the job.

The reason is bitter experience. Spurs have appointed three such figures, with mixed results. David Pleat was the first, but he never seemed able to get on with either George Graham or his successor, Glenn Hoddle -- probably because deep down he wanted their job.

Then came Frank Arneson, who made a mockery of the perception that a Director of Football will bring stability to a club by jumping ship as soon as he was offered more money elsewhere.

Finally we had Damien Comolli. The Frenchman oversaw some successful transfers, but also made some bad signings, including several players who Martin Jol didn't want in his side. When Jol went, Juande Ramos came in and Carling Cup victory aside, things went from bad to worse.

The position was scrapped while Harry Redknapp was in charge, but now it's back and if it doesn't work this time, the chances are that it never will.

Perhaps the difference of this occasion is that in Andre Villas-Boas, Tottenham have a manager who is actively asking for the position to be filled. That sort of goodwill and acceptance of an extra layer of management can go a long way to making things work.

So what of the man himself? The name is familiar to all who follow English football, as Baldini assisted Fabio Capello during his tenure as the national team manager. Yet I for one learned little about him during that time, other than he has rather fetching silver-grey curly hair.

More enlightening is to look at the sort of players that Baldini signed at Roma as Director of Football during his tenure from 1999 to 2005. It makes for impressive reading.

The likes of Daniele De Rossi and Antonio Cassano were recruited to the club as teenagers. Other talents signed in this period include Marcos Assuncao, Gabriel Batistuta, Christian Chivu, Leandro Cufre, Emerson, Philippe Mexes, Vincenzo Montella, Hidetoshi Nakata, Christian Panucci, Simone Perrotta, Walter Samuel and Cristiano Zanetti.

Most of those players were building their reputations when they were signed, rather than being the finished product. As we all know, Spurs are in the market for the former rather than the latter.

The two clubs have a lot in common. When Baldini joined Roma, they had won just two league titles in their history -- the same number as Tottenham. Within two years Roma had won a third title, with roughly half the side having been signed on Baldini's watch.

It would be wishful thinking for Spurs fans to assume that Baldini was the mastermind behind all of those transfers. Capello himself is clearly a good judge of a player, even if his continued selection of Matthew Upson for England suggested otherwise.

But being able to spot a good player is only half the job. You've then got to convince the club to sell and for the player to join you.

That can't have been easy in the Italian market during that period. The leading clubs in Serie A had a lot of money to burn. Roma had to battle for talent with Juventus and the giants of Milan, while their neighbours Lazio were also major players at the time.

Again, Tottenham find themselves in a similar situation. Spurs have four or five domestic rivals, most of which have a financial advantage. To be better than those clubs, Tottenham need to be a step ahead when it comes to scouting and identifying new talent.

The more you think about it, the more Baldini seems the logical choice. The signs suggest that this time the bridge between coach and the board will prove a success. Let's hope that the results are just as convincing as the argument.