At what price does it make sense to sell Bale?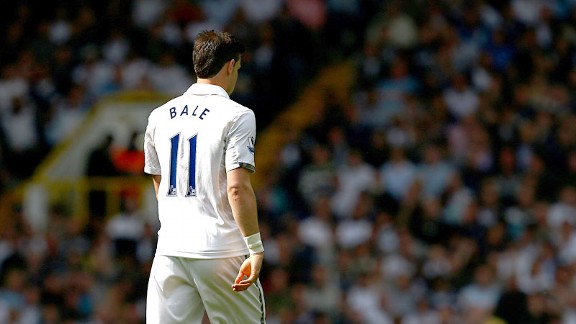 Jan Kruger/Getty ImagesWith presidential elections forthcoming in Madrid, Gareth Bale's price could soar to Ronaldo-like levels this summer.
Hands up who actually thought that was the end of that, when Tottenham announced that Gareth Bale would be staying at White Hart Lane next season.

These matters have a habit of taking on a life of their own. The club might be determined to keep Bale, but that's not going to stop his agent talking up a possible move.

- Perez: Bale 'born to play for Real'

The player himself might have finished the season determined to stay at Spurs, but no one could blame him for having his head turned when you've got Zinedine Zidane claiming that he's the best player since Pele.

Some of the numbers being talked about are crazy. The initial figures quoted by the press were around the £40m mark, which was always too low. Gradually, they crept up to around the £50m to £60m, which is the type of valuation I expected the club to put on Bale. After all, Daniel Levy is a man who once managed to get £6m for Mido.

This morning it was being reported that interest from Manchester City, Manchester United, Chelsea and Paris St Germain has seen the potential transfer fee rise to £80m.

Such spurious gossip should always be seasoned with a pinch of salt, but it got me thinking nonetheless. At what stage of the bidding would Tottenham be mad not to cash in on Bale?

£80m would equal the world record transfer fee paid by Real Madrid for Ronaldo. Surely you'd have to take that money? Bale after all, has not yet achieved what Ronaldo had done by the time such a figure was paid for him.

I'm less than convinced that anyone would pay so much. It's all very well reporting that these clubs are interested in Bale, but Levy will not want to sell to an English side and I can't see Bale wanting to play in France. Madrid is the only realistic destination.

They seem absolutely set on getting him though. You always know that's the case with a Spanish side when all of their stars start openly jabbering about how much they'd like to line up alongside their club's latest transfer target.

That desire -- no doubt borne out of a need to make an impressive signing before the upcoming elections at Real Madrid -- could alone see the fee get very high indeed.

Most Spurs fans accept that Bale will eventually leave. The situation at Real Madrid could mean that this is the summer where Levy could receive the optimum amount of money for their asset.

It's a gamble. Tottenham could turn down all bids, only for Bale to refuse to sign a new contract and then break his leg. Or they could turn down all bids and Bale scores 40 to 50 goals and we'll be talking about a £90m transfer next summer.

Whether it's £60m or £80m, it's quite reasonable to believe that if the money were invested wisely, then Spurs could emerge as a better side next season without Bale.

Tottenham don't sign many duds these days. There's no reason to believe that the money wouldn't be spent on players that would make the team and squad better.

There's also the little matter of the new stadium we're building. It may be boring and akin to winning a small fortune on the horses and saving it for a rainy day, but putting £20m towards the stadium this summer is the sort of sensible decision that has made ENIC's reign a successful one.

It's for this reason that I won't be reaching for the nearest noose if Bale is sold. I've seen them come and go. I think that when it comes to attacking players, Bale is the best I've ever seen at Tottenham, but I'm 36 years old. I cried when Chris Waddle joined Marseille, but I'd meet the sale of Bale with a shrug.

But I do want him to stay. I may think that Spurs would be better off to sell Bale for the money being touted around, but the fact that football has become a glorified Excel spreadsheet mildly disgusts me.

Never mind the financial gains and sound logic. You grow to love a player. I'll take one more season of those ridiculous goals any time and damn common sense. Over to you, Mr Levy...