Why Spurs' season is a success whatever happens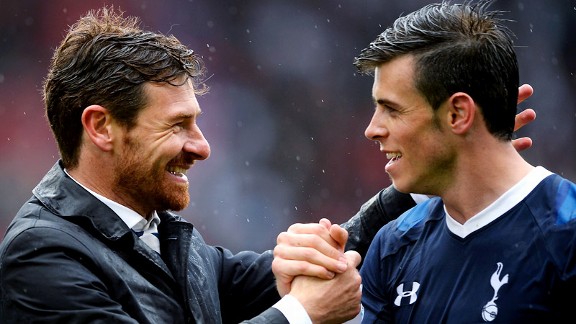 Laurence Griffiths/Getty ImagesAndre Villas-Boas got the very best out of Gareth Bale in the Portuguese manager's first season at Tottenham.
When I'm not writing about Spurs for ESPN, I can often be found offering football betting advice to any gambling company that is willing to pay me.

One of the golden rules of football betting is not to put your money on a team that have nothing to play for. This is especially true when their opponents have everything to play for.

So forgive me if I don't remortgage the house tonight and put the proceeds on Newcastle getting a result against Arsenal. Just like last season, I fully envisage an anti-climatic afternoon at White Hart Lane on Sunday, with both North London clubs gaining wins.

- Bale: Foreign move still appeals

When I trudge away from the ground I imagine that I'll be discussing what might have been. What for example, would have happened if Daniel Levy decided to lodge that bid for Joao Moutinho half an hour earlier?

What if he'd taken a punt on Dimitar Berbatov on transfer deadline day this summer, or made a more serious attempt to land Leandro Damiao in January?

Might Spurs then be peering snootily down from third place, as Arsenal and Chelsea scrapped for fourth? Perhaps. Those home draws against West Brom and Norwich might have turned into wins -- the losses against Wigan and Fulham into draws.

We'll never know for sure, but Levy is bound to attract a lot of criticism if Tottenham finish fifth. His negotiating will be criticised, as will his financial caution.

Yet I won't be able to bring myself to get too angry. Levy's methods leave me frustrated at times, but I never forget where the club were before he and ENIC took over. Nowhere.

Spurs fans now enjoy top four challenges every season -- all on a budget that is less than those used by the four teams in front of us and all while also attempting to build a brand new stadium. It's a difficult juggling act and no one should expect miracles.

One area where I assume Levy will escape criticism is in his choice of manager. Realistically I don't think that anyone could expect Andre Villas-Boas to have done any better with this squad of players.

Ledley King, Luka Modric and Rafael van der Vaart all left. Younes Kaboul has been out all season, while Sandro has missed the second half of the campaign.

Any club would miss players of that quality. The new signings have largely had a positive impact, but there were a lot of them and some have needed time to settle.

So for Villas-Boas' side to have equalled last season's points total with a game to go, it is a massive achievement, especially considering that AVB has also revolutionised the team's tactics.

What Spurs have now is a plan. A cohesive style of play, that not just about individuals doing their thing. Which brings us to Gareth Bale.

A lot of people have said that Tottenham are a one-man team. They are, if you accept that Manchester United, Liverpool, Barcelona and Real Madrid are also one-man teams.

I've heard people quote the ridiculous statistic that Spurs would be in mid-table without Bale. If he wasn't at Tottenham this season, just why would the club prefer to play with 10-men, rather than to spend the money on replacements?

Bale might be sold for real this summer if Spurs fail to finish fourth. It would be an awful shame and I really hope that in those circumstances he'd decide to give it one more shot. But if he doesn't, there's still every reason to look forward to next season with optimism.

Would AVB's team be better with Bale or three or four £20m players in his place? I hope we don't find out, but after this season, I think I'd trust Villas-Boas to identify the players that could make the squad stronger.

There's no point in looking back, so if I'm walking out of White Hart Lane after a fifth-place finish, after some initial grumbling, I'll start looking forward.

It's not been a perfect season, but it's one that's given me plenty of hope for the future. Whether it's fourth or fifth, I look forward to a first-rate future.