Adebayor winner avoids frustration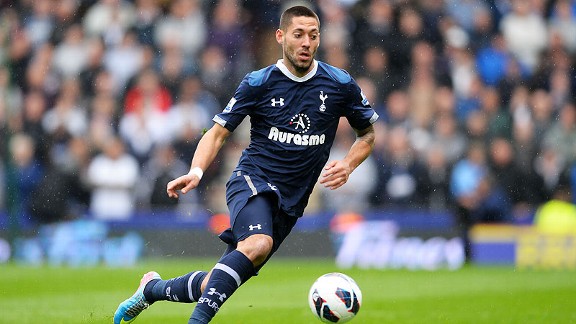 Laurence Griffiths/Getty ImagesClint Dempsey had a goal and an assist in Tottenham's late win at Stoke.
Tottenham Hotspur continue to be frighteningly bad at defending set pieces. Some things never change. One thing that certainly has been transformed of late is the form of Spurs' match winner at the Britannia Stadium, Emmanuel Adebayor.

- Adebayor, Dempsey deliver in Spurs win

The Togolese striker bagged the winner against 10-man Stoke City when it looked like Andre Villas-Boas' men were going to end up recording a frustrating draw. The 2-1 victory puts the pressure back on Arsenal, who face FA Cup winners Wigan Athletic at the Emirates on Tuesday night.

On more than one occasion this season, I've scared the life out of my dog as a result of my wild celebrations at late Gareth Bale screamers. Today, having waited and waited for Spurs to break through after long spells of patient play, an aura of relief replaced the usual fireworks in my living room. The dog was left to enjoy his third or fourth extended nap of the day.
Spurs started horrifically. Steven N'Zonzi nodded in Charlie Adam's delivery at the near post after three minutes. It was difficult to grasp the side's tactical setup early on, but Spurs eventually found their feet and settled into the game, creating more of a clear shape.

Villas-Boas decided to switch from the 4-3-3 utilised against Wigan and Chelsea, preferring the more familiar 4-2-3-1 with Bale playing in behind Adebayor. Lewis Holtby was the unlucky individual, replaced by Clint Dempsey, who rotated in the attacking-midfield positions with Bale and the speedy Aaron Lennon.

It was the American who bagged Tottenham's crucial equaliser in the 20th minute. Dempsey took advantage of Asmir Begovic's poor positioning; the goalkeeper had come out to deal with a Scott Parker through ball aimed at Lennon. Stoke defender Marc Wilson cut out the pass, his clearance only travelling as far as the well-placed Dempsey, who finished admirably from distance.

Dempsey had some making up to do after giving away a silly free kick which led to the home side's early goal. Steven Caulker had replaced Benoit Assou-Ekotto in the starting 11, with Jan Vertonghen moving to fullback. The switch was obviously made to add height to a back four expected to be under siege from Stoke's set-piece prowess.

Regardless of the early blip, followed by continued risky defending from set plays over the 90 minutes, Spurs held firm at the back. The real problem was the centre midfield pairing of Scott Parker and Tom Huddlestone.

Parker isn't the same player he was last year. Under Harry Redknapp, he would tackle and give the ball to Luka Modric. That was his role. Despite it not being the most exotic responsibility, it was an important one. It remains unclear whether Parker has taken it upon himself to move forward with the ball at will, or if the new management sees this as a positive trait of the midfielder.

The England international isn't exactly helped by midfield partner Huddlestone, who seemingly finds it impossible to turn on the ball when under any kind of pressure. His commendable ability to pass the ball also seems to take a leave of absence when Spurs are under the cosh.

Veering away from the negativity, Tottenham were aided by Adam's unfathomable second yellow card a minute into the second half.

This gave effective substitute Mousa Dembele and company more time on the ball to exploit Stoke. When Dempsey suddenly found himself with room in the penalty area, he squared to Adebayor to tap home with seven minutes to go. The former Arsenal man's performances against Chelsea and Stoke have led to the Tottenham travelling contingent refinding their voices, singing a common chant of last season: "This is the best team you've ever played for!"

Prior to the goal, it looked like it was going to be one of those days for Spurs. Villas-Boas, however, has instilled an admirable ability to never give up. Adam's dismissal obviously helped, but the North Londoners still had a job to do -- and they got it done.

Tottenham must now rely on fierce rivals Arsenal dropping points against either Wigan or Newcastle United. Villas-Boas must also focus on leading his side to victory against Sunderland on the final day. I hope I get the chance to petrify my dog next Sunday.