Now is truly the time for Spurs to lay the Chelsea hoodoo to rest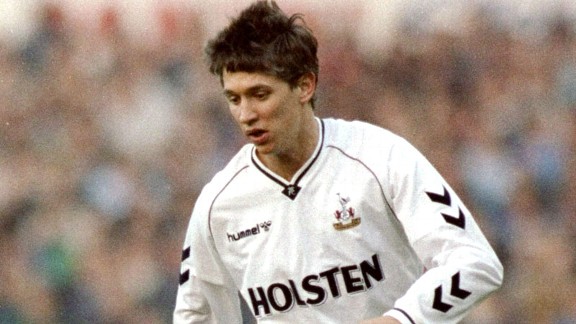 Ben Radford/Allsport/Getty ImagesThe last Spurs player to score a winner at Stamford Bridge was Gary Lineker back in 1990.
Let me take you to 1990. Football was a very different place indeed and almost unrecognisable compared to the landscape we know today.

It was a time when Manchester United had gone more than 20 years without winning a league title. A time when Arsenal could boast of having 18 Englishmen on their first-team squad. A time when Chelsea had yet to buy their first £1m player.

It also was the last time that Tottenham won a game at Stamford Bridge. Gary Lineker scored the winning goal for Spurs in a game notable for Paul Gascoigne lashing out at Chelsea's John Bumstead.

That win would help Tottenham grab a third-place finish in the old First Division, with Arsenal in fourth and Chelsea fifth. Anyone else licking their lips in anticipation of a spot of deja vu?

- Video: AVB hits back at Szczesny
- Cox: Huddlestone surprises Spurs with re-emergence
- AVB: Players' openness key to success

The only problem is that beating Chelsea in 2013 is a lot tougher than it was back in 1990. While Spurs have a player in the shape of Gareth Bale who can stand comparison with Gascoigne and Lineker, Chelsea are unfortunately no longer fielding players like Bumstead.

So how do Tottenham go about breaking the hoodoo? Belief is a big factor, and there is no reason for the players to not believe that they can get a result at Chelsea. After all, Spurs have won at Old Trafford, the Emirates, the Etihad and Anfield in recent seasons. Stamford Bridge is simply the last ground to tick off the list.

Tottenham lost 4-2 at home to Chelsea earlier in the season. It was a time when the team was still adjusting to life under Andre Villas-Boas and Chelsea were firing on all cylinders.

Spurs were also extremely unlucky to lose Bale from the starting XI, when his girlfriend went into labor at a most inconvenient time.

That defeat was the first time Spurs had suffered a home loss to Chelsea since 2005. So again, Tottenham have no reason to be overawed by their opponents.

For Villas-Boas, this is a chance to get one over his former employer, and he needs to get his tactics right. I'm hoping that AVB changes his recent habit for defensive rotation and picks the same back four that kept a clean sheet against Southampton.

Benoit Assou-Ekotto had a pretty bad game Saturday, but he should be retained against Chelsea, and not Kyle Naughton.

AVB went for a 4-2-3-1 formation against Southampton. With Scott Parker and Moussa Dembele both looking doubtful, he would be wise to change back to 4-3-3 to provide safety by numbers.

A midfield trio of Tom Huddlestone, Lewis Holtby and Tom Carroll would have the right blend of passing ability and work rate to compete against a Chelsea team that have a lot of midfield players employing central areas.

In attack, I would imagine that Jermain Defoe will be retained, despite playing pretty poorly against both Wigan and Southampton. He simply works harder than Emmanuel Adebayor and offers the option of switching to the left and cutting inside.

A trio of Defoe, Bale and Aaron Lennon could all interchange positions fluidly. If Lennon doesn't play, then Gylfi Sigurdsson would be my preference over Clint Dempsey.

Before Chelsea's late winner against Manchester United, I was thinking that a point would represent a very decent result at Stamford Bridge. Now I think that Spurs really need to win this one.

Perhaps that's for the best. Tottenham have looked better this season against good teams than bad ones. They've beaten Manchester United, Manchester City and Arsenal this season.

There is no reason why Chelsea can't be added to that list. It's time Spurs knocked this pub trivia question on the head.

If the question is: "Who scored the winning goal when Tottenham last beat Chelsea" -- then by Wednesday night, I want the answer to be: "Gareth Bale."