Rose can blossom at Spurs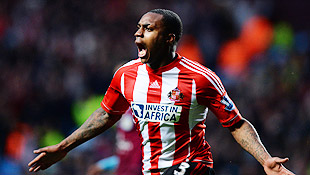 Andrew Yates/AFP/Getty ImagesDanny Rose has thrived at Sunderland and could help bolster Spurs if he returns to White Hart Lane.
Monday night, Tottenham's on-loan left-back Danny Rose scored a great goal for Sunderland, who were eventually thrashed 6-1 by Aston Villa.

There's talk that Sunderland want to sign Rose on a permanent deal, but Andre Villas-Boas has spoken out to confirm that he wants the England U-21 international to remain at Spurs.

-AVB keen for Rose to return

To my mind, that's good news. I have rated Rose since he was switched to a defensive position. A lot of Tottenham fans felt differently about him, but having been given an opportunity at Sunderland, I think he's proved he's worth a chance.

He was never given enough games by Harry Redknapp, who of course preferred to pick the same team every week rather than to rotate the squad. Consequently, when Rose did get a match, he was often pretty rusty, having not played a proper game for weeks, thanks to Redknapp's other genius idea of scrapping the reserve side.

At times, I have lamented the fact that Rose was let out on loan at all, due to the lack of natural left-backs in the Tottenham squad. What can't be questioned though is the extended playing time at Sunderland has been good for Rose's development.

We've seen the loan system work to Tottenham's advantage before, with the likes of Kyle Walker and Steven Caulker prospering at White Hart Lane after a period away.

Rose has also prospered and looks likely to grab the Sunderland player of the year award. While that's somewhat akin to being named as the best actor in a daytime soap opera, it's still a sign of progress.

Having started to play regularly, it is still to be seen as to whether Rose particularly wants to come back to Spurs. It will all depend on if he believes that he will get enough minutes.

What's clear is that Villas-Boas does not rate Benoit Assou-Ekotto. I'm a fan of BAE as both a player and a man, but if the manager isn't then I'd hope that he's sold this summer while his stock is still relatively high.

There has been talk of Spurs buying Leighton Baines to replace Assou-Ekotto. I'd be very surprised if that happened. As much as I rate Baines, I'd question the wisdom of spending £15m on a 28-year old left-back. If I'm questioning the wisdom, just imagine what Daniel Levy would do.

So I can see Rose coming back into the fold, perhaps alongside a younger left-back. That man could be Zeki Fryers if he's impressed the management sufficiently since joining in January.

One way or the other, Rose will either return as an important member of the squad, or will be sold for a few million having proved himself as a Premier League performer.

That's the power of the loan system. It has its faults and the fact that on-loan players can't play against their parent club is inherently unfair. For a club like Tottenham though, the system is a positive and the club's management continue to use it to the full potential.