Spurs should not let next Lewandowski slip their grasp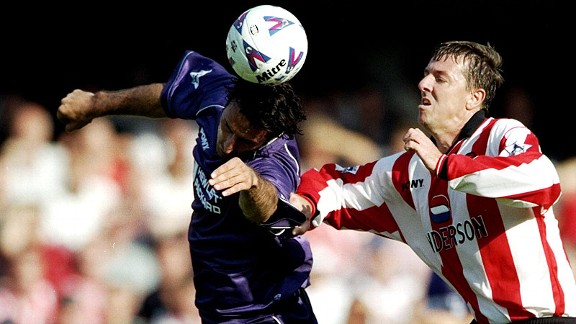 Allsport UK /Allsport Matt Le Tissier, right, one of many quality players Tottenham had a chance to acquire, battles Spurs' Ramon Vega in a 1998 match.
Wednesday, while Robert Lewandowski was clinically destroying Real Madrid, former Tottenham favourite Steve Archibald tweeted the fairly unwelcome news that Spurs had once had the chance to sign the Dortmund striker for as little as five million pounds.

It got me thinking about some of the other players Tottenham have let slip through their grasp. First, there are the ones who actually spent some time at the club as youngsters, but somehow were allowed to fulfill their potential elsewhere.

By far the biggest gaffe in this inglorious category was the decision to allow a young Graeme Souness to leave for Middlesbrough having made just one appearance for the first team.

Souness excelled in the North East and was eventually snapped up by Liverpool, where he experienced great individual success and won just about every honour there was to be had. Meanwhile, Spurs fans had to watch in envy and could only wonder as to what qualities Souness would have brought to their own powderpuff midfield (answer: tackling ability).

It wasn't just the Scottish superstar that Tottenham missed out on. England internationals such as Des Walker and David Beckham trained with the club as schoolboys, only to make their mark elsewhere. Peter Crouch came through the Spurs youth system and was sold for 60,000 pounds, only to be later re-signed for a whopping 10 million pounds.

Then there are the players who nearly moved to White Hart Lane, and I'm talking about deals that were a lot closer than Rivaldo writing an apologetic letter to Glenn Hoddle simply because he felt sorry for him.

Most famously there was the case of Matt Le Tissier, who actually signed a contract to leave Southampton for Tottenham, only for his spoilsport wife to refuse to move to London. The deal was scrapped and Le Tissier spent the rest of his career saving the Saints from relegation.

There's few things more painful for a football fan than to see a player who your club was once heavily linked with go on to become a great. Spurs could have signed Denis Bergkamp, but preferred to move for Chris Armstrong instead.

I remember Tottenham being close to a deal to sign Samuel Eto'o, back when the Cameroon legend was playing for Mallorca. Eto'o was so keen on a move to Spurs that he even dedicated a goal to their fans. Having nutmegged Sol 'Judas' Campbell en route to scoring for Cameroon against England, Eto'o remarked: "I dedicate my goal and my piece of trickery against Sol Campbell to the fans of Tottenham."

Now we can add Lewandowski to the list of ones who got away, even if it is Blackburn Rovers who have the most reason to feel aggrieved on that score.

This summer, Spurs should not make the same mistake again. A big frustration for me over the past few seasons is the way that Tottenham management looks to youth and promise in all positions, except when it comes to the striker the team has long needed to join the elite.

Instead Spurs want the finished article. The 'world class' striker. Spurs have bid big money for the likes of Sergio Aguero and Giuseppe Rossi, ignoring more realistic targets.

Demba Ba, Luis Suarez, Daniel Sturridge, Michu, Dimitar Berbatov, Steven Fletcher, Papiss Cisse, Christian Benteke and Loic Remy. All players who Tottenham could have realistically taken a chance on who are arguably (and in some cases certainly) better than either Jermain Defoe or Emmanuel Adebayor.

Let's not make the same mistake again. There's no point in Spurs trying to bid for Lewandowski now; they wouldn't have a chance at him.

Yet the next Lewandowski is out there somewhere. Stop wasting time looking for a world-class striker and take a chance on one who could be world class one day.