Does Tom Huddlestone deserve one final chance at Spurs?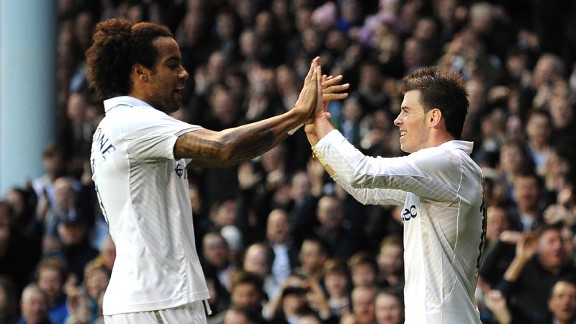 PA PhotosTom Huddlestone: A key performer against Everton and Man City
Tottenham could well have ended up with no points from their home games against Everton and Manchester City, but instead mounted comebacks to claim a creditable four points.

It could be said that the key man behind these comebacks was Tom Huddlestone. A somewhat forgotten figure at White Hart Lane, the midfielder has come off the bench to great effect of late.

- Huddlestone hints at Spurs exit

When he was called on to face Everton there was a fair amount of groaning from the crowd around me in the Park Lane. Without Gareth Bale and Aaron Lennon, Spurs were struggling for pace and the less tactically aware could be forgiven for not seeing the chunky Huddlestone as a natural solution to this problem.

Yet it was Huddlestone's passing ability that finally gave Spurs some zip. Without anyone capable of running with the ball, Huddlestone's accurate long passing was the key to getting the play moving faster.

Next came Huddlestone's cameo against Basel. Yes, he hit a very tame penalty, which was all the more infuriating for the fact that we all know that he could blast it so hard, that any goalkeeper foolhardy enough to get in the way would find themselves in the back of the net with the ball.

However, Tottenham looked immediately more capable of holding the ball when he came on alongside the lively Lewis Holtby and Tom Carroll in midfield. Following Jan Vertonghen's sending off, Huddlestone switched to central defence and still looked comfortable.

He again made a big difference in the weekend's game against Manchester City. In a tactical switch that saw Holtby and Huddlestone lining up alongside Moussa Dembele in the midfield of a 4-3-3, Spurs' rotund hero anchored the midfield and did well in his handling of the livewire Carlos Tevez.

Going forward, Huddlestone's passing ability once again made a positive impact. Most importantly he played a sublime defence-splitting pass to give Gareth Bale the space to craft Spurs' third goal.

It can probably be taken as a given that Huddlestone will play a part in the final five games of the season. Given his fitness level and lack of pace at the moment (I know he's always been slow, but these days he looks like a walking slow-motion replay), then more substitute appearances seems likelier than starts.

Can he do enough to convince manager Andre Villas-Boas that he can do a job for Tottenham next season? It depends on a couple of factors.

The first is whether Huddlestone is willing to stay and fight for a place, after a season in which his charms have largely been ignored. In terms of his own career, it might be best if he found a home where he would start every week. Fulham have been mentioned and that would seem a good fit.

Secondly, it will come down to whether Villas-Boas sees a future for him. As stated, he's ignored Huddlestone for most of the season, but he seems a fair man when it comes to players impressing him, having been out in the cold. Look how Michael Dawson has been able to re-establish himself in the team.

Much will come down to AVB's tactical plans for next season. If he goes for a 4-3-3 then Huddlestone could well have a part to play. At the start of the season I gave the opinion that Huddlestone could flourish in such a formation. Instead, Spurs have largely played 4-2-3-1 and the big fella just isn't mobile enough to play in a two-man midfield.

A trio of Huddlestone, Dembele and Holtby looks balanced enough to me though. If such a tactical switch is in Villas-Boas' plans (and that's always looked on the cards) then he could do worse than give The Hudd one last chance.

After all, there are few better passers in the English game. Before injuries slowed down his progress (pardon the pun), Huddlestone was playing very well for Spurs alongside Luka Modric and had made an appearance for England.

I love watching him play and would like him to stay, but most of all I want him to find an environment for his talent to shine. After all, I'm sure we all want him to score a goal and be able to cut his hair eventually.

I'd like that place to be Tottenham, but if it's not, Huddlestone will always have his admirers at White Hart Lane, even if they are equalled by his detractors.