Why Spurs are no longer laughing at Manchester City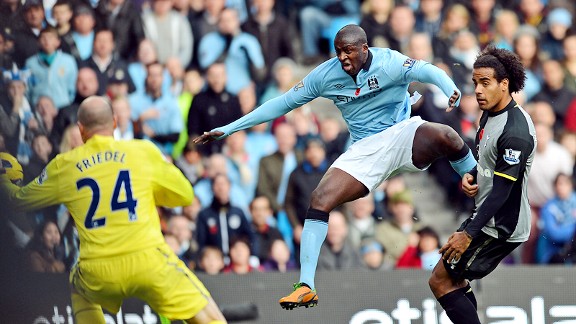 Paul Ellis/Getty ImagesSpurs will have their hands full with the ever-dangerous Yaya Toure when they host Manchester City on Sunday.
For many years Manchester City were like an exaggerated version of Tottenham.

Like Spurs, they lived in the shadow of the more successful neighbours down the road, only the chasm between City and their rivals was even greater.

- Tottenham confirm Kaboul setback

Like Tottenham, they seemed to verge from one crisis to another. Only theirs were more serious and involved concepts like relegation that are alien to any Spurs fan under the age of forty.

City sacked more managers than Spurs. Their worst players were worse than Tottenham's worst ones.

I, for one, liked that arrangement. During the dark days of the Alan Sugar regime, we Spurs fans needed some light relief and City provided it. When times were tough we could at least look at them and know that things weren't all that bad. After all, we weren't in League 1 and never had a day-glo kit.

Then one day they got bought by billionaires and everything changed. Now Tottenham look up at Manchester City instead of down. Thank heavens that Newcastle can still be relied upon to make us feel better about ourselves.

In last season's match against City at White Hart Lane, Robert Mancini's side were absolutely awesome, even accounting for the fact that Harry Redknapp decided to go with the risky midfield partnership of Luka Modric and Niko Kranjcar (I really don't miss Harry).

Tottenham were demolished 5-1. City have not been nearly as good as they were last season, but still seem to be finding their groove as the campaign comes to an end.

Mancini's team have won their last four games and looked particularly impressive in the Manchester derby and in the FA Cup semifinal against Chelsea.

Yaya Toure in particular worries me. What a beast that man is -- like a Carlton Palmer who has control over his own legs and is actually good at football.

If it was Sandro standing in the space that Toure will come charging into, we'd be watching a fair fight. Instead, it will be left to Scott Parker to deal with Toure's menace, with only his side-parting and three-point turns as way of a defence.

City also have three extremely lethal strikers. Spurs can only dream of such riches, although as he's facing his former team, Emmanuel Adebayor will probably bother to put in a shift. He played very well in the away fixture earlier this season.

Yet even when Adebayor is running around a lot and getting involved with the play, he's not a top level goal threat. City have the type of strikers who can win them the game even when the team isn't gelling.

Spurs of course have a player in the shape of Gareth Bale who can do likewise. Or rather, they might have him.

As yet, we don't know if Bale will be fit enough to make a return. Obviously Spurs have a much greater chances of getting a result if he features, but there's no point taking a big risk on him, which could backfire.

Aaron Lennon is another player that may or may not feature. To stand any chance of winning we need at least one of them back.

I've been impressed with the performances without them -- against Everton and Basel -- in the sense that you saw players like Adebayor, Gylfi Sigurdsson and Clint Dempsey stand up to be counted. The team that was selected played as well as they could, yet ultimately weren't good enough and lacked pace.

One thing that Tottenham will be, that they haven't been for a long while, is fresh. It will be ten days since the game in Basel. Since then, City have played two games and looked tired in their victory over Wigan in midweek.

It's a measure of how City have grown that Spurs can only hope to beat them if certain players are fit, or they are fatigued.

Once upon a time, you can send any ragtag bunch out against them and probably sneak a win. Times change. It's going to be some time before Tottenham can ever hope to finish above Manchester City, but in the meanwhile we can only hope that our David can deliver a one-off blow to their Goliath.