Evaluating Tottenham's six remaining games
Tottenham Hotspur's season has boiled down to six games.

Win them all, and Spurs will qualify for the Champions League. The only problem is that this definitely won't happen.

There's not a team Spurs have to face who don't have something to play for. When that's the case, it means dropped points. All Tottenham fans can do is hope that Spurs drop fewer than Arsenal or Chelsea.

Here's my verdict on Spurs' remaining games, with the opponents' chief motivation: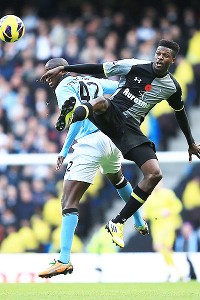 Richard Heathcote/Getty ImagesSpurs first hurdle in the season run-in is Manchester City and Yaya Toure, left, shown mixing it up with Emmanuel Adebayor in City's 2-1 win at the Etihad Nov. 11.
April 21: Manchester City (home)
Chief motivation: Pride

On the face of it, Manchester City doesn't have much to play for. It knows it's not going to retain its Premier League title, and almost just as certain is the fact it will finish second.

City also is in the FA Cup final. Often, this can lead to a slip in league form as players subconsciously tone down and try not to get injured before Wembley.

The trouble is that I can't see City following this fine tradition. If its season collapses, then Roberto Mancini could be out of a job at the end of it, regardless of the FA Cup result. Furthermore, City looks to be finding its best form, with great performances against Manchester United and Chelsea.

On the bright side, City does have to face Wigan midweek, while Spurs get to keep their feet up. It's still fairly frightening to consider what will happen when Yaya Toure starts bulldozing toward little Scotty Parker, though.

Verdict: At best a draw. More realistically a loss, by a single goal scored in some sort of unspecified, agonizing circumstance.

April 27: Wigan (away)
Chief motivation: Annual brush with relegation

Next up is the other FA Cup finalist, in the shape of Wigan. Despite having more at stake than Manchester City, Wigan is far more likely to go ga-ga.

While Manchester City's players can afford to be blase about the FA Cup final, this will be a once-in-a-lifetime chance for the majority of Wigan's players. League form could suffer, at least in the short term, which would be good news for Tottenham.

Verdict: Another away win for the mighty Spurs.

May 4: Southampton (home)
Chief motivation: Top-half finish

You know when I said that every team Spurs have to face had something to play for? I was exaggerating for dramatic effect. Southampton has all but avoided relegation, and a top-half finish is pretty weak motivation.

The Saints have had some great results this season, but they've mainly been at home. Let's hope they keep their magic stored at St. Mary's.

Verdict: A narrow home win. Tottenham is on a roll now.

May 12: Stoke (away)
Chief motivation: Avoiding relegation

Of all the bottom-half clubs Spurs have to face, this could be the toughest. The Potters are in wretched form right now and Tottenham could end up playing them just as they've entered the relegation zone.

I have a feeling that this game will see Jan Vertonghen at left back and either Steven Caulker or Younes Kaboul lining up alongside Michael Dawson. Headers will be involved.

Verdict: A draw or narrow away win.

May 19: Sunderland (home)
Chief motivation: Avoiding relegation, racism controversy

Spurs fans should suck up any desire to see a bigoted manager get relegated and lose his job.

A couple of more results like the one against Newcastle would see Sunderland pull clear of the relegation zone. That's exactly where we should all hope they will be by the time this fixture rolls around.

Verdict: Home win, probably ruined by results from elsewhere gained in lucky/dubious circumstances (see Marton Fulop vs. Arsenal in 2012 as way of reference).

Date TBD: Chelsea (away)
Chief motivation: Qualifying for Champions League/beating Spurs

Chelsea's game against Tottenham has yet to be rescheduled. What's certain is it will be a midweek match toward the end of the season.

That throws up the potential for a Cup Final-like encounter, with a Champions League place at stake, much like Spurs' battles with Manchester City before they went stellar. I can't be the only person that's absolutely terrified at this prospect.

Verdict: Draw/utterly harrowing defeat that Spurs fans will relive in their nightmares for years to come.