Tottenham's name was on the cup, until it went to penalties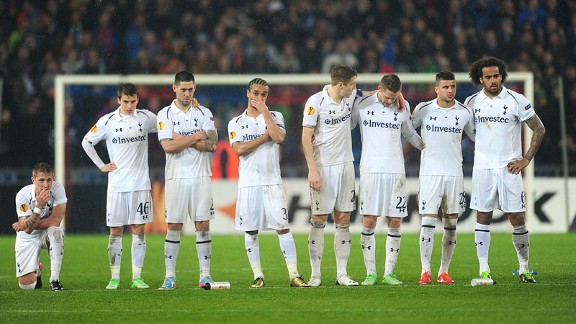 GettyImagesTottenham were destined for defeat when the match headed for penalties
I'm not the sort of football writer who swears by tactical insight. In my mind, the fact that Spurs had scraped through the group stage of the Europa League, and then did likewise against Lyon and Inter Milan, was nothing but proof that Tottenham would reach the final of the Europa League and then win it.

The name was on the cup and all that. Then the game went to a penalty shoot-out and that was the point that I lost faith.

Let's start before that. What a game. Everyone hates the Europa League and that's because of the tedious group stage and the teams parachuting in. Just make it a straight knockout and it would be a cracking competition. A real alternative to the Champions League.

- Video: Basel (4) 2-2 (1) Tottenham (USA, UK, Ire)
- AVB: English teams respect Europa

The Lyon, Inter Milan and Basel games have provided great drama. I trust that Tottenham Hotspur have not been alone in such adventures.

Later on in this article I am going to state that the silver lining to this cloud is the fact that at least Spurs have a better chance now of qualifying for the Champions League. Yet given the choice, I'd have taken the trophy. Otherwise we accept that football is purely about the accumulation of money and when that moment comes about, I will be bidding farewell to the sport.

Like many an entertaining game, it was played on a very wet pitch. The surface was a major contributing factor in both of the first two goals.

Clint Dempsey put Spurs ahead in the tie, as the Basel defence fell about as if wearing banana skins on ice. The ball from Jan Vertonghen found its way to Dempsey, who rounded the keeper and scored.

Just moments later Tottenham returned the favour. A suicidal square ball was intercepted and the ball was played to Salah, who was free in a baffling amount of space. 1-1.

Early in the second-half Aleksandar Dragovic made it 2-1 to Basel, as Spurs continued their recent and yet traditional inability to defend a simple corner. Brad Friedel palmed it straight into the path of Dragovic, leading to many a Tottenham fan contemplating as to whether Lloris would have caught it.

At 2-1 down and ready to go out of the tournament, Spurs started to play. The disappointing Moussa Dembele was hauled off and Tom Carroll replaced him, which was followed by Scott Parker being replaced by Tom Huddlestone.

The ball retention improved immensely and Andre Villas-Boas' team started to press. Eventually it paid off as Dempsey scored his second to bring the scores level.

At that point I thought that Tottenham were destined to win the game. The momentum was with them and they were on top.

Then Jan Vertonghen got sent off and it became obvious that Spurs would lose on penalties.

Like many an England side that have specialised in heroic failure, Tottenham ground their way through extra-time, towards an inevitable spot kick defeat.

Tom Huddlestone took the first penalty. He has taken one penalty for Spurs before (don't ask me who it was against). On that day you might have expected Huddlestone to smash the ball, as he does when 30-yards out, but instead he side-footed it meekly. Tonight Tom did not learn from his initial mistake.

Gylfi Sigurdsson kept his cool, but Emmanuel Adebayor did the exact opposite. He performed a strange little dance, changed his mind several times during the run up and lofted it several miles over the bar.

Oh well. Now to that silver lining I promised...

Spurs have six games which will define their season. Chelsea could have as many as twelve. I know who I will now be cheering on in the cup.