The deadwood that won't be at Spurs next season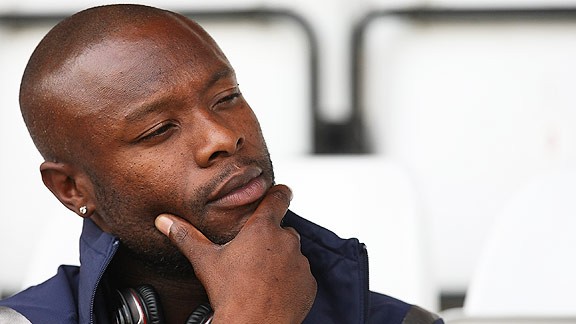 Pete Norton/Getty ImagesWith his contract expiring this summer, William Gallas is not expected to be back at Tottenham.
There are six very important Premier League games remaining of Tottenham's season and the potential for a further four Europa League matches.

How Spurs fare between now and the end of the season will have a big say on the level of player they will bring into the club, but will not necessarily have much bearing on which ones will leave.

- Dempsey: Things getting tense at the Lane

Of course, Gareth Bale is the player whose future is most up in the air. Tottenham have a better chance of holding on to him if they qualify for the Champions League, but the vultures will be swarming regardless of whether a top four spot is secured.

Bale will be sold if Spurs receive an offer that is too good to be true, or if the player tries to force the issue. It's hard to imagine Bale doing the latter, but then it seemed equally unlikely that Luka Modric would push so hard for a move.

The fans in N17 can rest assured that if Bale is sold, it will be for a huge fee that could potentially make Tottenham a stronger outfit, if invested properly.

Outside of Bale, there's no one else who you could see moving on to bigger and brighter things. Hugo Lloris, Jan Vertonghen and Moussa Dembele have only just arrived. Younes Kaboul and Sandro have spent most of the season injured.

No team would fork out the kind of money that would persuade Spurs to sell Aaron Lennon, while Kyle Walker's indifferent form will probably keep potential suitors hands firmly in their pockets.

So aside from the possibility of Bale leaving, the only other departures are likely to be players that Andre Villas-Boas no longer sees as part of his plans, or squad members that the club decides to cash in on.

Last summer we saw Tottenham accept a bid from QPR for Michael Dawson. I'm not convinced that anyone at the club really wanted him to leave, but once you receive a £9m bid for a 28-year old who isn't guaranteed a place in the starting XI, then you have to consider it.

There are a number of players that fall into the category that Dawson found himself in last summer. Spurs might not necessarily want to sell them, but given the age they'll go if the price is right.

I'd figure that the likes of Scott Parker, Clint Dempsey, Jermain Defoe and Emmanuel Adebayor could be sold. None have had a great season and the 29-year old Adebayor is the only player who has not yet turned 30.

They're all on big wages and Daniel Levy will want to get some money back on his investments, before the players reach an age where they can no longer command a transfer fee.

Which brings us to William Gallas. Fear not, Spurs fans. With his contract ready to expire in the summer, the calamitous defender is on the list of players that is certain to leave.

So too is Tom Huddlestone, despite his impressive cameo against Everton. He's simply not mobile enough these days to feature in Villa-Boas's tactical plan. After his injury problems, Huddlestone needs to find a club where he will play every week and build up his fitness.

Another player I'm sure will leave is Benoit Assou-Ekotto. Villas-Boas clearly doesn't fancy him, preferring to play Vertonghen or Kyle Naughton out of position. You'd expect BAE to attract a decent transfer fee too.

Finally we have the young players whose future is unsure. Will the aforementioned Naughton still be at Spurs next season? I think that he might.

The England U-21 right-back Adam Smith is highly rated, but I expect him to be loaned to a Premier League side after his successful spell at Millwall. Villas-Boas certainly plays Naughton enough to suggest that he rates him.

The same can't be said of Jake Livermore. Villas-Boas doesn't select him unless he has too. He could go if the right offer comes in and for young English players, it normally does.

I've mentioned nine players that Tottenham might be happy to see go this summer, which tells you a lot about the quality of the squad.

The first choice team is good enough to mix it with anyone, but the squad as a whole isn't. This needs to be the transfer window where Levy backs Villas-Boas with the players that he wants to work with and sheds the deadwood that he doesn't.