How AVB stirred the Lloris v Friedel pot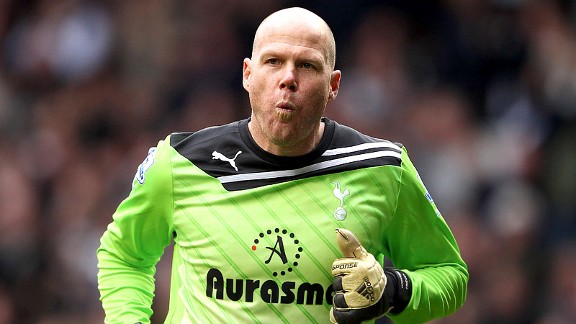 GettyImages / Scott Heavey/Getty ImagesBrad Friedel's earned the gloves at Spurs but Andre Villas-Boas is not handling the goalie duel well.
I was penning a column on how I thought Andre Villas-Boas was dealing with the Brad Friedel/Hugo Lloris conundrum.

The point I was going to make was that maybe he's right to introduce Lloris slowly. After all, it can take time for a foreign goalkeeper to adapt to the challenges of English football. Friedel himself struggled at Liverpool before eventually establishing himself as one of the best goalkeepers of the Premier League era. (Remember David de Gea's first few games for Man United?)

I was going to make the point that Carlisle was a pretty good place for Lloris to be introduced to English opponents and I was going to file this copy before the game... but something made me stop writing. Call it a small doubt as to whether Lloris actually would be picked.

After all, the Daily Mail had run a story stating that Lloris wouldn't play. Now this is a publication that should give away a free pinch of salt with each copy, but even a stopped clock tells the right time twice a day. Maybe it would be more prudent to wait and see...

And so my suspicions proved well-founded as AVB decided to to go with Carlo Cudicini instead. It makes zero sense to me.

Had he picked Lloris, then the theory that Spurs are deciding to slowly introduce Lloris to English football would have held true. Yes, there would still be the debate as to whether the French captain should be picked ahead of Friedel, but the argument that the veteran American has done nothing to warrant being dropped is a compelling one that few could really argue with.

Yet by leaving out Lloris in favour of our third choice goalkeeper, AVB has only managed to further increase the speculation and pressure surrounding this already tricky situation.

This morning's press was full of talk of how Lloris will demand crisis talks. Of course there were no official quotes and it might all be rubbish, but it certainly doesn't help a situation that was already quite delicate.

AVB has form when it comes to poor man management, but I've thought that he's made progress in that area since taking over at Spurs. It's true that the issue of Michael Dawson being named as captain one minute and then nearly being flogged to QPR the next wasn't exactly smart.

I was impressed, though, by Villas-Boas' decision to pick Aaron Lennon as captain against Lazio, a left-field choice that made sense given some analysis. One look at Lennon's Twitter feed will tell you that he's a player with plenty of friends in the dressing room. Harry Redknapp had a sometimes frosty relationship with the winger, so getting him onside by recognising his seniority within the squad was a clever move.

Or maybe I'm giving AVB too much credit and he simply doesn't care what anyone thinks and is just making the decisions that he thinks are right. It certainly worked for Brian Clough.

Whatever's the case, all eyes will now be between the posts at Old Trafford. I would expect Friedel to start after his good form in the Premier League this season, but who knows? Maybe AVB will spring another surprise and give Lloris a start.

Can someone please read the Daily Mail and tell me one way or the other?