Bale fears outweigh Basel result concerns
Well, that could have gone better. Right now I don't really care about the result, as much as the injuries that Spurs suffered. In the end, Tottenham finished with just nine men, with injuries forcing Aaron Lennon, Gareth Bale and William Gallas (because every cloud must have a silver lining) off the pitch.

It was Bale's injury that is the most worrying. At the time of writing no one has any idea how serious it is, but it looked very bad. We could be talking about Tottenham's best player missing the rest of the season.

- Video: Bale's injury overshadows draw
- Tottenham battered but salvage draw

That would be damaging enough, but if Lennon is also out for any length of time, you can essentially kiss goodbye to the season. I've moaned at length about the gambles taken with the squad this season and not having any cover in certain positions. In the next day or so we'll find out just how damaging that gamble might be.

The thought of how serious these injuries might be to all Tottenham have worked for this season leaves me so depressed that I can barely bring myself to review the match itself. Here goes …

As previously mentioned, Gallas was on the pitch. He wasn't quite as calamitous as when he played away in Milan, but he again looked very poor. Alongside him, Jan Vertonghen had his worst game for some time. Coincidence?

I just can't understand the thinking behind playing Gallas. If Andre Villas-Boas wants to rotate his central defenders, then give Steven Caulker a game. If he made a mistake, we could live with it. Caulker is a young player with a big future at Spurs and will benefit from the experience. Gallas will be finished with the club by the summer and, more importantly, looks to be a complete liability.

Spurs really struggled to contain the Basel attack with Marco Streller and Mohamed Salah, causing all sorts of problems. Benoit Assou-Ekotto had a bad game and is another you sense will be shown the door come the end of the season.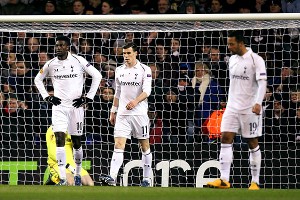 Press Association/AP ImagesA sizzling first half from Basel left Spurs shellshocked.
The Swiss side took a 2-0 lead and Tottenham looked shellshocked. Slowly, Spurs woke up and started to impose themselves on the game. Emmanuel Adebayor pulled a goal back, as he was presented with the perfect chance for a striker lacking in confidence -- one that he didn't have time to think about.

Adebayor might have been back among the goals Thursday night, but spare a thought for Scott Parker. He has never scored for the club, but couldn't have come any closer Thursday. He was presented with what was basically an open goal, but somehow managed to hit his shot into the prone Lewis Holby's studs, sending the ball wide of the post.

In the second half, Spurs got some luck in front of the goal, when Gylfi Sigurdsson's well-hit shot from outside the area took a deflection and found its way into the net.

It was reasonable to expect that Tottenham might go on to win the game from that point, but things petered out. Instead, it was Basel who had the chances to win the game, and Spurs can count themselves lucky to have picked up a draw.

It should be said that the result wasn't just down to the fact that Tottenham had a poor performance. Basel were excellent and will be disappointed not to have won.

A 2-2 draw at home is never a good result in a European tie, but there's every chance that Spurs could still progress. Much will depend on Bale's and Lennon's availability.

You see, I told you that the Chelsea game being moved was a good thing, didn't I? Let's hope that when Tottenham does eventually face them, it is with its best players available.