Why Spurs fans should be cheering Chelsea in cups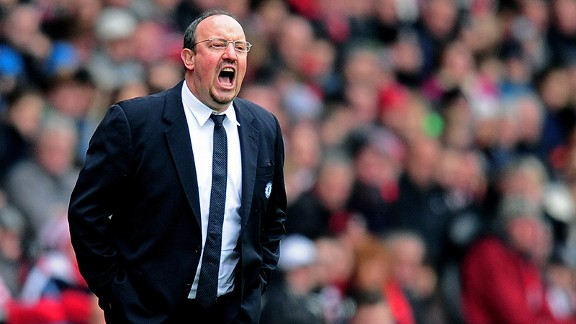 Mike Hewitt/Getty ImagesRafael Benitez's thirst for silverware could be Spurs' secret weapon
Wanting Chelsea to win a football match is an unfamiliar feeling for Spurs fans. Unless they're playing Arsenal, I pretty much always want them to be on the receiving end of a heavy defeat.

Yet on Monday I found myself quietly pleased to see Chelsea beat Manchester United to progress to the semi-final of the FA Cup.

- AVB: Top-four as important as Europa

There has been debate amongst the Tottenham faithful over whether or not Chelsea's FA Cup run is a good or a bad thing. Had United knocked them out, then Spurs would have met Chelsea after the Blues had returned from their lengthy trip from Russia in the Europa League.

The theory was that Tottenham would have been fresher having made the much shorter trip back home from Basel. I'm not so sure. Chelsea have a deeper squad than Spurs and may well win comfortably enough against Rubin Kazan on Thursday so that they can rest their key personnel.

I think Tottenham will be better off with the amended schedule. Having beaten Swansea on Saturday, they will have played a total of four games in 13 days by the time the away match in Basel has taken place. A nice break of 10 days off is preferable to then playing one of the most important games of the season.

Another reason to want Chelsea to progress was that Rafa Benitez made it pretty clear what his priorities were over the weekend. He rested players for the away game against Southampton, in order to beat United.

The Spaniard is not going to be at Chelsea next season, so you can't blame him for prioritising the cups over Champions League qualification. The further Chelsea go in their two cup runs, then the more decisions Benitez will be forced to make.

This is good news, because Chelsea's remaining Premier League fixtures are pretty tough. They have a West London derby away at Fulham just three days after the semi-final against Manchester City.

There's also away trips to come against the likes of Liverpool, Manchester United and an Aston Villa side that may well still be battling for survival.

That's why Tottenham fans should be cheering on Chelsea all the way to two finals. Because if they even got to one final, then the resulting fixture pile-up would put a tremendous strain on their resources.

I've got a feeling that the battle for fourth spot will come down to a straight fight between Spurs and Chelsea. Arsenal have no distractions and some pretty easy games to come.

They still have to play Everton and Manchester United, but even they are at home. There's some potentially tricky fixtures against the likes of QPR, Wigan and Newcastle at the end of the season, but it's likely that at least one of those sides with either be relegated or safe by the time that game takes place.

Yes, sadly St Totteringham's Day may well come around again. Arsenal have been more inconsistent than either Spurs or Chelsea this season, but by virtue of having absolutely no chance of winning anything, they should at the very least grab fourth place and most probably will finish third.

They don't get a trophy for that though, no matter what Arsene Wenger might tell you. Let's hope that Rafa Benitez' thirst for silverware hands the remaining Champions League spot to Spurs.