Champions League qualification or Europa title?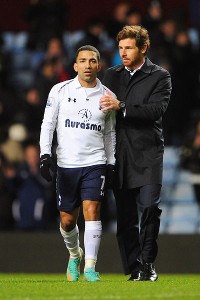 Michael Regan/Getty ImagesWith Aaron Lennon, left, out of Spurs lineup, there are no quality options Andre Villas-Boas can lean on to replace him.
Andre Villas-Boas doesn't want to admit that Tottenham's Europa League campaign is having a negative effect on their Premier League form.

It's understandable. Admit that playing two games every seven days is a problem, and you give your players an excuse to let down.

The fact is it has been tough to keep the two plates spinning. That's because Spurs are weak in certain areas of their squad. Just look how the injury to Aaron Lennon has caused major selection problems, when it should be as simple as slotting your reserve right winger into the team.

Tottenham now face a major fixture pileup at a time when Arsenal's failures leave them free to concentrate on the league. We saw last season that they're pretty good at that and their next five games seem fairly unchallenging.

Of course, if Arsenal do make it at Spurs' expense, the Gunners fans will no doubt be laughing it up at the collapse, while ignoring the fact that their own Premier League form only recovered after their own collapses against Bradford, Blackburn and Bayern.

The only silver lining to this cloud is that Chelsea's fixtures look even tougher that Tottenham's. Like Spurs, you would expect them to progress to the semifinals of the Europa League and they may also have as many as three extra FA Cup games to contend with.

Their game against Tottenham comes after a grueling trip to Russia -- unless the reach the FA Cup semifinals. Chelsea's away games are against Southampton, Liverpool, Manchester United and Aston Villa. Pretty tough.

Chelsea do have a squad more capable of dealing with the fixture pileup than Spurs. Tottenham find themselves struggling for options when Lennon or Gareth Bale miss a game, while Chelsea can rotate Eden Hazard, Juan Mata, Oscar and Victor Moses.

Still, something has to give if they continue to challenge on three fronts. It's unfamiliar territory, but Spurs fans should really be cheering Chelsea on in the cups from here on in. This time it might just see the club gain a Champions League place rather than lose one.

Spurs will drop points, so there's nothing else to do but hope that Chelsea find the pace just as tough, while Arsenal fail to win the games they should, as they have all season.

Look at the likely fixtures if Tottenham reach the Europa League semifinals. After the international break comes Swansea away. Five days later is Basel in the first leg of the Europa quarterfinals, three days after that Everton. Then it's back to Basel on the Thursday, before the vital away game against Chelsea three days later.

If Spurs knock out Basel, they would then have a week to prepare for the home game against Manchester City, before the Europa League semifinal first leg on the Thursday and a trip to a Wigan side fighting for their lives three days after that. Then it's the second leg on Thursday and a weekend game with relegation-threatened Southampton.

That doesn't look like 18 points in the bag to me. Nor does it look like a set of fixtures that Spurs are likely to get through without picking up further injuries.

Tottenham definitely have a great chance of reaching the final of the Europa League final, but it might be hard to do that and finish in the top four.

This throws up the obvious question. If you had to choose between winning the Europa League or qualifying for the Champions League, which would you go for?

This was the debate at the pub on Sunday after the defeat to Fulham made doing both even more of a challenge. Of course, the sensible option is to qualify for the Champions League. Lord it over Chelsea/Arsenal, keep Bale, buy better players and rake in the money for the new stadium.

No one went with that option, though. We'd all rather win something, even if it is the Europa League. After all, what's the game about if it's finishing fourth that prompts an open-top bus ride?

Such challenges and dilemmas should be welcomed though. A few years ago Spurs would be mid-table, out of both domestic cups and not even in Europe.

This is definitely a better position in which to be. If Tottenham achieve both their goals then it will be a brilliant achievement. If it's just one, then it would still be a successful season.

None? Let's not think about that one.