Will Tottenham 'Spurs' it up again this season?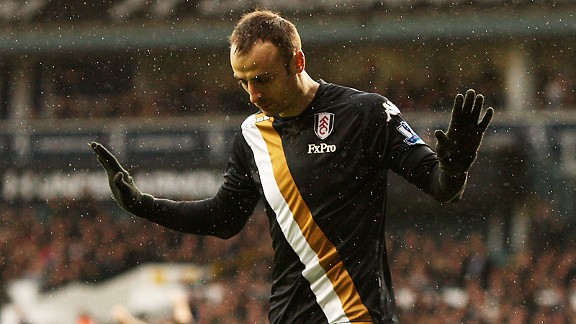 GettyImagesDimitar Berbatov chooses not to celebrate after scoring Fulham's winner at old club Spurs
There is a verb that is only used in London. To 'Spurs' something up. There is no official dictionary definition, but it basically means to make a complete mess of something from a position where it seems nothing can go wrong.

- Brewin: Jol gives Tottenham a familiar fright
- AVB: Organisation let us down

Are Tottenham going to 'Spurs' up their season? They've now lost three games on the bounce. Being beaten by Liverpool and Inter Milan away from home is no disgrace. To lose 1-0 at home to a Fulham side that have effectively nothing to play for, demands questions to be answered.

The questions can come later, but for now I have a statement. That was not only a totally hopeless performance, but also one of the most boring games I have ever seen.

Normally, if Tottenham get beaten at home, there are at the very least innumerable missed chances to lament. On Sunday, the team couldn't even provide that for the fans who came to see them.

It would be easy to blame it all on the 120 minutes played in Milan, but neither Benoit Assou-Ekotto nor Gareth Bale played in midweek and they were equally useless as the rest of the sorry mob that took the pitch.

The fault doesn't entirely fall with the players. For the second game in a row, Andre Villas-Boas picked the wrong side from a tactical perspective.

The injury to Aaron Lennon has derailed Tottenham's season far more than the absence of just one player has any right to.

The last two games in which Lennon has been absent have seen Moussa Dembele shunted out onto the wing, with the Belgian being badly missed in central midfield.

Sunday saw a change, with Dembele being moved back to the middle. The team that was picked looked like it might line up with three at the back, with wing-backs. Instead, Benoit Assou-Ekotto played on the left of midfield -- an experiment that can only be described as a total failure.

Can I make a radical suggestion? If Lennon is out and we're searching for someone to stick out on the wing, how about that Bale chap?

Up until a fortnight ago Bale was considered one of the best wingers in the world. While he's been brilliant in a central position and it might be where he spends the majority of his career, there is currently no rule in place stating that he now can't do a stint on the wing for the good of the team.

When he did eventually switch to the wing in the second half, it was on the right rather than the left. If anyone can explain the logic of that to me then I'm all ears.

Why have the club let the manager be in a position whereby an injury to one player creates such a situation? It's completely irresponsible.

There are holes all over this squad. Look at the striker situation. Spurs have a choice between Emmanuel Adebayor, Jermain Defoe and Clint Dempsey (and it's not even Dempsey's real position). It's like being stuck between a rock, a hard place and another tough, stony area.

It's a miracle that the team are where they are when you consider that the strikers are in such bad form. When was the last time either Adebayor or Defoe scored in the league? I'd have to consult either a statistics site or a historian to let me know.

If Tottenham are not to throw it all away this season, they need to wake up from this March slumber. Hopefully a couple of weeks off before the next game and the return of Lennon will make a lot of difference.

Please don't Spurs it up again Tottenham. We've all come too far this season to go to pieces now.