Somber Spurs need to look on the bright side
In a way, it's kind of reassuring to know Spurs' predilection toward suicidal defending hasn't quite met its maker yet.

What a strange game Sunday at Anfield. For a large period of their 3-2 setback against Liverpool, Tottenham were terrible and losing. Then they were winning and in total control. Finally, Spurs served up a twist in the tale, with an ending in the finest traditions of black comedy.

Most of the first-half action confirmed just how weak Spurs' squad is when you scratch beneath the surface of the very good first XI.

-- Match report: Liverpool 3-2 Tottenham Hotspur

Aaron Lennon was out, but rather than simply putting in a reserve winger in his place, Andre Villas-Boas made a complete tactical reshuffle. That's not AVB's fault, of course. He didn't pick a reserve winger because Tottenham don't have one.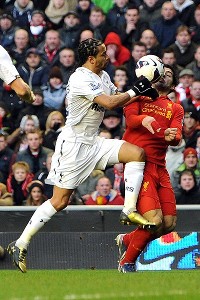 John Powell/Liverpool FC/Getty ImagesBenoit Assou-Ekotto's clumsy challenge against Luis Suarez resulted in a Steven Gerrard penalty kick and spoiled Spurs' comeback.
Well, they actually do. There's one on loan at QPR, who played on the right wing Sunday and scored one and set up another. Then there's another wide player on loan at Sunderland and even one at Blackburn.

Moussa Dembele did a good job deputising for Lennon, but was sorely missed in the centre of midfield. The pairing of Scott Parker and Jake Livermore lacked creativity, and you wonder why Parker wasn't paired with either Lewis Holtby or Tom Carroll instead.

Spurs looked disjointed, and Liverpool were the better team for most of the first half. Luis Suarez took his goal really well, which wasn't surprising, but was painful for more than the obvious reason.

I don't think I will ever get over the fact Tottenham let Suarez slip through their fingers. The deal for the Uruguayan was there for the taking before Liverpool signed him. Imagine this current Tottenham team with Suarez leading the line.

Harry Redknapp claimed he passed on Suarez because his scouts told him that Suarez couldn't play on his own up front. Quite why Redknapp was unable to make his own decision on a player who had looked superb in the 2010 World Cup and was being shown on ESPN for Ajax on a near-weekly basis, is a mystery.

It looked as if Liverpool would go into the break with a lead and my Twitter feed was full of opinions from Spurs fans debating what tactical changes needed to be made. Then Jan Vertonghen changed everything by heading home a superb cross from Gareth Bale.

Tottenham came out for the second half looking like a different team. The personnel was the same and the tactics weren't changed, but the performance was top-drawer.

It was Vertonghen, again, who gave Spurs the lead. Another Bale cross caused chaos in the Liverpool defence and the ball fell to the Belgian, who produced a cool finish.

Spurs were controlling the game. The passing was crisp, the pressing left Liverpool with no time to dwell on the ball. Gylfi Sigurdsson could have made it 3-1, but hit the post.

Then, just at a time when Tottenham needed their defence to perform like a well-oiled machine, they instead decided to pull off an impression of the Keystone Cops.

They say you can't account for individual errors. In which case, perhaps we should be grateful that several Tottenham players got them out of their system in the same game.

First, Kyle Walker attempted a bewildering back pass that put Hugo Lloris in real trouble. Always quick to danger, Lloris was first to the ball, but fluffed his clearance. Stewart Downing couldn't believe his luck and put the ball in the net, via the merest of gaps between Vertonghen's legs.

Then Jermain Defoe, for reasons best known to himself, chipped the ball into his own area, straight into Suarez's path. Benoit Assou-Ekotto put in a clumsy challenge and Suarez took the opportunity to fall down in the box. Steven Gerrard converted the penalty and the game was lost.

It's incredibly frustrating, but let's look on the bright side. From the run of games Spurs have just had, six points from the last three games is a decent return.

In the space of eight days, Tottenham have beaten Arsenal and Inter Milan, before narrowly losing to Liverpool at Anfield. I've had worse weeks as a Spurs fan.

Tottenham weren't beaten today. They threw the game away willingly. With that in mind, the players should have no problem in forgetting a bad day at the office and bouncing back against Fulham next week.