The joint Arsenal and Tottenham XI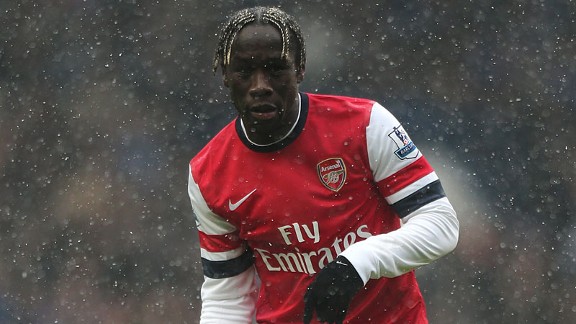 PA PhotosBacary Sagna: Perhaps a surprise inclusion in the North London allstars
If you were to go back just a few seasons, it would be a struggle to find a Tottenham Hotspur player who could justify a place in the Arsenal side.

- Limbert: Is it as simple as stopping Bale?

A lot of things have changed since then. Ahead of Sunday's derby against the Gunners, many pundits suggest that the balance of power has shifted to White Hart Lane.

To test this theory, I've picked a joint Arsenal and Spurs XI, trying to be as objective as I can and putting any bias aside (though I'm pretty sure that the comments section will soon reveal that Arsenal fans might not agree that I've succeeded in putting aside my Spurs hat).

Below is my selection. Why not use the comments section to pick yours and see how many Arsenal players would actually make the cut.

Goalkeeper: Hugo Lloris

Since joining Spurs and establishing himself as the first-choice goalkeeper, Hugo Lloris has proved himself to be one of the most stable goalkeepers in the Premier League. Right now, Wojciech Szczesny simply doesn't compare, with rumours rife that Arsenal will replace the Pole in the summer.

Right back: Bacary Sagna

If I was picking this team last season I would have no hesitation in picking Kyle Walker, but his game seems to have regressed. That sees him lose his spot on this team to Bacary Sagna, who is one of the most consistent full backs in the Premier League.

Left back: Benoit Assou-Ekotto

Arsenal have had problems at left back all season. They may well have solved that problem with the signing of Nacho Monreal, but it's too early in the Spaniard's Premier League career to pick him ahead of Assou-Ekotto -- one of the league's best full backs.

Centre back: Jan Vertonghen

I could have very well picked Vertonghen alongside Thomas Vermaelen, but decided that they are too similar. In a straight choice, I've gone for the Spurs player. Both are great going forward, but Vertonghen is the better defender.

Centre back: Younes Kaboul

When analysing whether to pick Younes Kaboul, Michael Dawson, Laurent Koscielny or Per Mertesacker, it comes down to a straight choice between Kaboul and Dawson. The latter has been very good in recent weeks, but Kaboul was the best player in the Spurs' defence before his injury and thus gets the nod.

Defensive midfield: Sandro

Considering that Arsene Wenger doesn't seem to think that this sort of player is necessary at Arsenal, it's not surprising that Sandro gets the nod. That said, there are few players in the world who I would prefer to the Brazilian in this position.

Central midfield: Jack Wilshere

Arsenal's best player has no real competition for his spot, considering that Spurs lack creativity in central midfield. Again though, this is a case where there aren't many players anywhere who you'd rather pick in Wilshere's position.

Central midfield: Santi Cazorla

It's a straight choice between Cazorla and Tottenham's more muscular Moussa Dembele. Both have played very well since joining their respective north London clubs, but Cazorla has had the edge when it comes to influence in matches.

Right wing: Aaron Lennon

Lennon has had perhaps his best ever season under Andre Villas-Boas, who has given the winger more responsibility and seen it pay off. In the long term you could see Alex Oxlade-Chamberlain nabbing this position, but for now it's Lennon's.

Left wing: Gareth Bale

Like Jack Wilshere, this is a case where there simply is no other choice than Tottenham's best player. After his recent move to a more central position, it may transpire that picking Bale on the left wing becomes just as strange an idea as picking him as a left back now seems.

Striker: Theo Walcott

Neither side has a top-class striker, but in the shape of Theo Walcott, Arsenal have a top class finisher who has shown a lot of promise when employed centrally this season. With Lennon, Bale and Walcott up front, it's fair to say that this team would be rather handy on the break.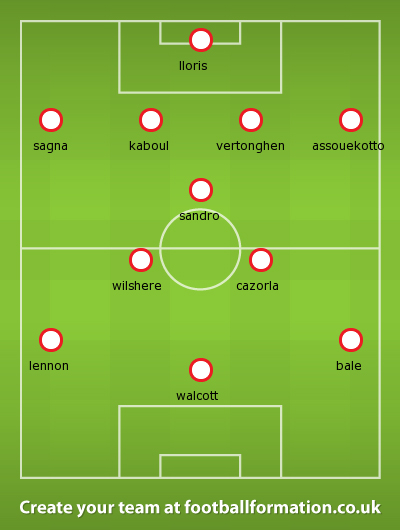 Other / footballformation.co.uk
Subs: Wojciech Szczesny, Kyle Walker, Thomas Vermaelen, Moussa Dembele, Mikel Arteta, Lukas Podolski, Jermain Defoe.