Bale the best I've seen, but Spurs not a one-man team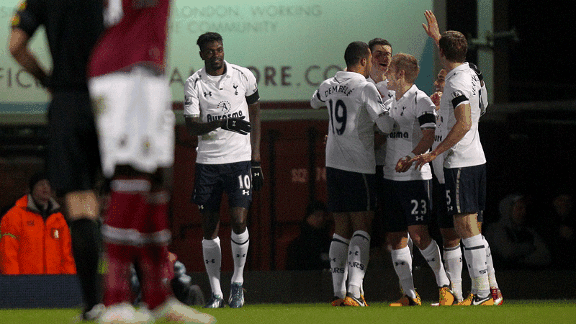 PA PhotosGareth Bale may have been Spurs' matchwinner-in-chief of late but his is not the only contribution to victory
The Spurs I know don't react like this when they're 2-1 down in a London derby.

Yet this team are taking going behind in their stride. In my last post I talked about Tottenham turning losses into draws and draws into wins. On Monday night, they went one better and turned a defeat into a victory.

I know that a lot of ESPN's readers are Americans who have only fallen in love with the Premier League and the romantically-named Tottenham Hotspur during the last couple of decades. For those supporters, I'd like to explain something about Spurs that I've picked up during my 30-odd years of supporting the club.

It's not meant to be this way. Tottenham simply aren't a team that does this sort of thing. Oh of course there are odd examples of Spurs snatching victories at the death. Why, back in 2007 as an example, Tottenham went one better and beat West Ham 4-3 at Upton Park, with a winner deep in injury time.

But on a regular basis? No. I don't remember anything like this. Spurs are traditionally a side associated with mental weakness. A team that collapses like a house of cards, when anything resembling a challenge rears its head.

So this is new. Obviously Bale's influence on Tottenham's results of late has been huge. He is putting in match-winning performances for Spurs, game after game.

Last night it occurred to me that Bale has to be the best attacking player I've ever seen at Tottenham (it's pointless comparing him with a defender like Ledley King).

That's a big thing for me to say. When I first fell in love with Spurs, Glenn Hoddle was the poster boy of the club. He was a ridiculously skilful player. In terms of technique I don't think I've seen anyone to touch him at Tottenham.

But that doesn't necessarily make Hoddle the best player Spurs have had. Paul Gascoigne had a similar level of ability, but perhaps more of a will to win. Gazza could grab a game by the scruff of its neck.

Yet right now, I'd have to put Bale above them. In terms of skill and technique, he doesn't compare to Hoddle or Gascoigne. In terms of an ability to influence games, at the very highest level, he's better.

The miraculous thing about Bale is that what he does is actually quite simple. There are no step-overs or fancy flicks going on. Look at his first goal from yesterday. He just works to give himself a yard of space and then produces a perfect finish.

His game is built on pace, power and accuracy. Bale is absolutely thriving in the centre, especially late on in games. The opposition are dead on their legs, but Bale is a supreme athlete and seems as fresh as when he trotted out to start the match.

The winner was a joy to behold. Bale started the move by creating space for himself without even touching the ball. Turning at the halfway line, he made his way towards goal.

Just as he was getting within shooting range, Bale was brought down. The referee played the advantage. Perhaps the Bale of a season or two ago would have stayed down and complained, but the Bale of today was quickly back up on his feet. There was a game to be won and when the ball was played back in to him, Bale did just that.

It's too simplistic to label this Tottenham a 'one-man team' though. Yes, Bale is Spurs' best player, but Hugo Lloris made some great saves and Michael Dawson was immense in the centre of defence. There is quality throughout the side. Gylfi Sigurdsson contributed more than a scrappy equaliser, putting in his best performance for Tottenham after coming on as a substitute.

Let's also not forget the man Bale ran to when he scored that winner. Andre Villas-Boas. We have to credit him for the togetherness that clearly exists at Spurs right now. He has created a team that believes in one another and won't lie down. That team has XI players, not just one.