Can AVB keep Tottenham fresh amid fixture pile-up?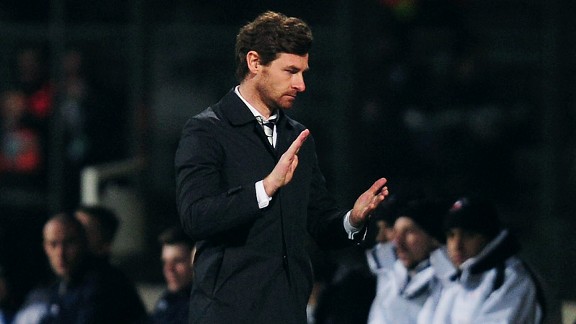 Jamie McDonald/Getty ImagesWith so many big fixtures in the upcoming weeks, Tottenham manager Andre Villas-Boas will have to keep his squad fresh and focused.
Tottenham have done very well this season to keep on track for a top four spot with a squad that is weaker than the one that finished fourth last term.

With 12 games to go, it's now vital that Spurs don't throw all that hard work away, but things are going to be very tough from here on in.

Beating Lyon on Thursday night has set up an extremely challenging set of fixtures over the next two and a half weeks. First up there is an away London derby against West Ham, followed by the daddy of all derbies next Sunday when Spurs face Arsenal.

- AVB revels in Europa progress

The Thursday after that sees Inter Milan travel to White Hart Lane for the first leg of the Europa League tie, with the second leg a week later. Sandwiched in between is an away trip to Liverpool.

As a set of fixtures, West Ham away, Arsenal at home and Liverpool away would be pretty tough under the best of circumstances. With the Inter Milan games added to the mix, things become really tough.

All those league games are winnable, but in reality I think any advance on five points will be a decent achievement. The West Ham game is the one to definitely win, as it will put a lot of pressure on Arsenal when they travel to White Hart Lane next weekend.

Should Spurs advance past Inter Milan, it will then throw up an even tougher set of fixtures later on in the season. The first leg of the quarterfinals will be played between Tottenham's difficult away trip to Swansea and a home game against Everton. Next would come the second leg, just days before a potentially crucial away trip to Chelsea.

When you look at how much more difficult it will make Tottenham's league fixtures, then you can begin to understand why Harry Redknapp was always so keen on getting knocked out of the Europa League at the earliest opportunity.

Winning games is a habit though. Coming through that game against Lyon gives the side extra belief. Spurs are snatching draws in games that they are close to losing. They're snatching wins from games that are heading for draws.

A run like this makes a team feel unbeatable. Heads aren't dropping when things go wrong, as was so often the case in the second half of last season.

The mentality is there, but the biggest challenge for Andre Villas-Boas now is keeping the legs fresh. The defence won't be an issue. Villas-Boas has been rotating his players all season and Younes Kaboul will soon be back to give the manager even more options.

Central midfield is much more of a worry. Scott Parker hasn't played well since he came back from injury, while Moussa Dembele has suffered injury problems this season.

There's no way that those two players can be reasonably expected to play in all of Tottenham's fixtures over the next couple of weeks. Jake Livermore and Lewis Holtby may need to be utilised in these positions.

The wings are another issue. There is no one who can really fill in to give Aaron Lennon a rest, except for maybe Lewis Holtby. Then there's the fact that Gareth Bale is playing so well that he absolutely needs to be played in every game.

In attack, Spurs should have Jermain Defoe back within a couple of weeks. They need him, considering that the club has taken the strange decision to loan out the most senior of the academy strikers, in the form of Harry Kane and Jonathan Obika.

There are a lot of things that could go wrong. A lot of players that Spurs simply cannot afford to pick up injuries.

Football mirrors life. Success is achieved through a mixture of talent, hard work and plain old good luck. Spurs have the first two, but have no control over the third.