Wilshere among selected rivals Spurs' supporters can't hate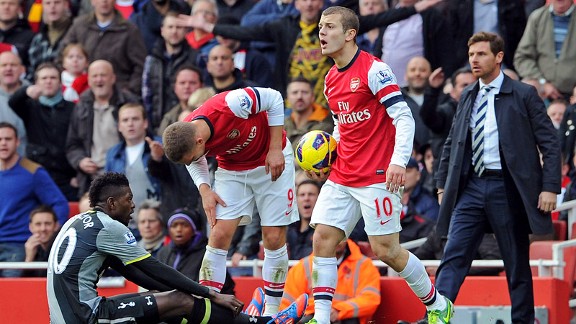 David Price/Arsenal FC/Getty ImagesEven in the heat of the Spurs-Arsenal rivalry - with moments such as this when Emmanuel Adebayor, left, was red-carded for his tackle of Santi Cazorla in November - the author's distate for Gunner Jack Wilshere, right, is tepid at best.
Jack Wilshere is a brilliant footballer. Having watched him in-depth on two recent occasions while on professional assignments, I've been blown away by his influence in those games.

- Wenger fears Wilshere burnout
- Macintosh: Beauty and beast

He's not as good as Paul Gascoigne was (obviously), but Wilshere has that same ability to surge forward from midfield, beating players at will.

Only 21, Wilshere could be the heartbeat of the England midfield for years to come. He's got that kid-in-a-playground style of football going on that is absolutely joyful to watch.

What a shame that he plays for Arsenal.

Spurs fans and indeed, fans of any club, will be familiar with the sensation of admiring a player for his ability, yet hating him because of the team for which he plays.

It doesn't quite sit right to cheer Wilshere on for England. Why would it? I have been conditioned to dislike Arsenal's players since I was a child.

Sometimes it's very easy to pull off this hatred. There was always something immensely annoying about Ian Wright. I would hope that I would despise him with every fibre of my body, even if I had not been born a Spurs fan.

Other times it's more difficult. Denis Bergkamp is a good example. He was a truly great player. Tottenham were linked with signing the Dutchman to replace Jurgen Klinsmann. Instead Spurs bought Chris Armstrong.

How could you convincingly feign hatred for a player capable of scoring that goal for Holland against Argentina in the 1998 World Cup? Especially when he seems a decent bloke to boot.

The same can be true of some Chelsea players. We're meant to hate them without question as well.

Yet who could really look at little Gianfranco Zola and not want to give his thick mop of hair a tussle? He was a beautiful footballer and is clearly a very nice man.

Why can't everyone make it as easy as John Terry and Ashley Cole? Even pantomime villains give more room for ambiguity than those two.

Then there are the players who can leave you confused about your feelings. Frank Lampard is hated by Spurs fans, mainly for his propensity to always score against Tottenham and then celebrate in front of our stand, while kissing the badge on his shirt.

That makes a lot of people very angry. Me too, but during moments of drunken sincerity, I have been known to admit the fact that in many ways, I admire Lampard a lot.

He's a model pro. Someone who has absolutely maximised his ability through dedication and hard work. Somewhere in an alternate universe, Lampard joined a team that I had no beef with, such as Manchester United. I admire him in much the same was as I do Paul Scholes or Ryan Giggs.

Football fans are also meant to hate players that leave the club in acrimonious circumstances. Again, sometimes the players make it easy for you. Sol Campbell could have scarcely have acted with more villainy as he crept away from Spurs to join Arsenal.

I could never really get wholeheartedly behind the dislike of the players that swapped Tottenham for Manchester United though. As I've said, I have no real beef with United (especially since Spurs started taking four points a season from them) and could recognise why the likes of Teddy Sheringham and Michael Carrick wanted to join them (medals and money).

Even Dimitar Berbatov, who really did act rather badly in the run up to his move to Old Trafford, cannot inspire my ire. He was simply too good to watch. It's impossible to hate someone who can take your breath away with a mere shimmy.

Not that I'm above booing these players of course, but then I'm always astonished that this activity, whether aimed at the opposition or your own team, is always treated so seriously.

What is missed by players, managers and far too often journalists (who have forgotten they were fans first), is that booing is fun. It takes strong human willpower not to join in, such is the emotional pull of the act.

So will I boo Jack Wilshere when he comes to White Hart Lane? Of course, but it won't be because of a genuine dislike. It'll be more like when a young boy is mean to a girl that he secretly has a crush on.