Bale saves striker-less Spurs again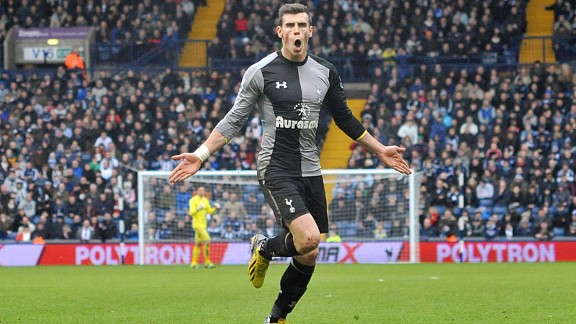 APGareth Bale celebrates his winning goal against West Brom
The sad irony of Gareth Bale is that every amazing solo goal that wins Spurs extra points, also further persuades the likes of Barcelona and Real Madrid that he's worth the best part of £60 million.

- Bale brilliance beats Baggies
- Evans: Moment of madness costs Albion

On Sunday, Bale produced another moment of magic to secure three points for Tottenham with a 1-0 win over West Brom, just days after he saved a point with his wonder-goal against Norwich.

Right now Bale is showing the mark of a world-class player. He is grabbing games that are going away from Spurs by the scruff of the neck and with his ability and will, dragging them in the right direction.

Prior to Bale's goal at The Hawthorns, it looked as if a disciplined 10-man West Brom might frustrate a Tottenham side that lost Jermain Defoe to injury in the first-half.

After a transfer deadline day in which Spurs failed in their pursuit of striker Leandro Damiao, and for some reason didn't consider it necessary to consider any alternatives, it was somewhat inevitable that Defoe would succumb to injury. That's how football works.

Defoe is now reputedly out for three weeks. At the time of this posting, Emmanuel Adebayor and Togo are losing 1-0 against Burkina Faso in the quarterfinal of the African Cup of Nations. We can only hope that they do lose and Adebayor is soon back on the first plane out of South Africa.

It was Lewis Holtby who replaced Defoe, prompting a reshuffle that saw Clint Dempsey fill the England striker's role. Holtby was very impressive again and hopefully will make his first start next weekend.

The German international has the mark of any good midfield player -- always seeming to have an extra yard of space in which to operate. Holtby also seems to possess a sixth sense as to where his colleagues are.

Everything is one- or two-touch with Holtby. As an Englishman, I can only feel sorrow that the Germans capped him before he was on the FA's radar. Given the level of competition and number of outstanding young midfield talents in Germany, it's entirely possible that Holtby will struggle to win more caps. He'd get 100 for England.

Another English-tinged observation concerned a former children's TV series from these shores. When I was a kid, I used to watch a show called "Rentaghost," in which a character called Miss Popov used to disappear every time she sneezed. I couldn't help being reminded of this when Goran Popov also made a swift disappearing act, having emitted nasty fluids from his face.

Spurs found themselves with a man advantage when Popov was sent off, having spat at Kyle Walker. The perceived logic is that the opposition having a man dismissed is a good thing, but I'm not sure that it made things any easier for Tottenham.

Up until that point it had been an extremely open game, as West Brom employed a 4-4-2 formation and pushed for the win. When they went down to 10 men, West Brom were forced to sit deep and defend. Exactly the sort of opposition that this Spurs team can struggle to break down.

Tottenham didn't really look like it would get on the board, and with no strikers on the bench, there was little Andre Villas-Boas could do to turn things round. That was until Bale's moment of magic changed the game for Spurs.

It was a big win. Tottenham went closer to Chelsea and restored its advantage over Everton and Arsenal.

There is a big danger Spurs' lack of strikers could derail their season. To stay on track, Tottenham are going to have to grind out a lot of results like this one. While this striker problem persists, there are bound to be draws in games that Tottenham really should be winning.

I've just checked the Togo score and it's still 1-0 and now in extra time. If it goes down to a shootout, then that's one penalty that I'd really like Adebayor to miss.