More than Holtby needed in Spurs' push for glory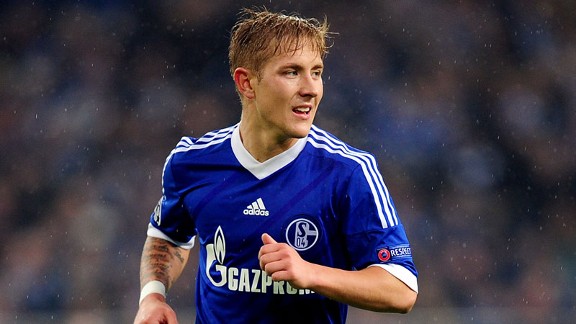 PA PhotosLewis Holtby was out of contract at the end of the season but opted to move in January
Spurs' push for a Champions League place gathered momentum with the signing of Schalke midfielder Lewis Holtby, six months earlier than planned. In an uncharacteristic move by Daniel Levy, Holtby was snapped up for a reported fee of £1.5 million when the North London club could have captured him for free in the summer.

Levy is well-known for his tight financial control and eye for a bargain and this could be the first sign that he is ready to dip a little further into his pocket to ensure Spurs finish among the top four this season. That and Sandro's season-ending injury last week meant Spurs were looking a bit light in midfield.

Spurs manager Andre Villas-Boas lost key players from the Harry Redknapp era but missed out on signing his No. 1 target Joao Moutinho as a replacement last window.
Instead, he brought in Clint Dempsey, Gylfi Sigurdsson and Mousa Dembele to fill the creative void left by the departures of Luka Modric and Rafa Van der Vaart.

Dembele has fitted seamlessly into the new-look, combative Spurs midfield while being the main creative force too with his driving runs and ability to ghost past players. Dempsey's career at White Hart Lane started slowly, playing in behind lone striker Jermain Defoe, but since his winning goal at Old Trafford his form has picked up. Sigurdsson has not had the same playing time as the other new arrivals and is yet to show his capabilities, but at 22, this is not a worry for Villas-Boas and he provides good depth in that position.

What was a worry for Villas-Boas was his team's inability to break down opposition defences that would simply put men behind the ball and play on the counter attack. There was a certain guile that was missing from Spurs' play that none of the current squad possessed; Moutinho would have been that man but, at around €30 million, Levy has been priced out of a move by Porto.

Enter Holtby. The English-born, German Under-21 international captain has been plying his trade in the Bundesliga for Schalke for the past couple of seasons. This season, Holtby has shone. He has scored four goals and provided ten assists playing in a variety of positions. Though he can play wide right or wide left, he is at his most devastating playing through the middle, either behind a front-man or as a deep-lying midfielder.

His main strengths are his composure and creativity while on the ball and his eye for a goal. He also runs himself tirelessly into the ground, a trait which will earmark him as a potential captain of club and country in the future. On the flipside, Holtby is not physically imposing. This is not to say he will not flourish in the Premier League, but there have been noises out of Germany that he can go missing in games when he gets tired or when the opposition are too physical. At 22 though, this is something that can be worked on and improved.

Most importantly, Holtby is versatile and this is a huge asset for Villas-Boas. It allows the Spurs boss to set up his midfield in different ways to combat different opposition.

Villas-Boas has so far used a 4-2-3-1 formation this season with either Dempsey, Sigurdsson, or sometimes Adebayor, in the hole behind Defoe. This is similar to how Schalke set up so Holtby should have no problems adjusting tactically to life at Spurs if he is used in his familiar role. He will want to play as the No. 10. Here he can look to drift in between the lines and dictate Spurs' play while linking up with flying wingers Gareth Bale and Aaron Lennon to set up and score goals for himself.

Another way Holtby can be used is from either wing. It also allows Villas-Boas to rest his current widemen without upsetting the quality of the side. He is not a like-for-like replacement for either Gareth Bale or Aaron Lennon as he is not known for his pace - in fact, as a youngster he was released from Borussia Munchengladbach for not being fast enough - however, Holtby can provide quality from the flanks and this will be something Spurs may need to use as the games come thick and fast later in the season.

Schalke were known to sometimes drop Holtby 20 yards deeper from his usual position behind the striker in order for him to find space and create from deep against certain teams. This would definitely be an option and one Villas-Boas may be likely to use. It is common knowledge that the Spurs boss' preferred formation is 4-3-3, but has yet to mould his squad into this formation. With the arrival of Holtby, this may be possible. Villas-Boas will have a blend of creativity, drive and destruction in a midfield trio of Holtby, Dembele and Scott Parker that could be utilised when trying to get teams to press higher and create space for the front three players.

With the early arrival of Holtby, Spurs will be confident of a top four finish but the squad is far from complete. Ideally, Villas-Boas would want to bring in another midfielder in the Dembele mould, perhaps someone like Mohamed Diame from West Ham. Some like-for-like cover on the wings is also essential as Bale and Lennon cannot be expected to play every game in the close season.

As has been well documented, Spurs have no cover in attack if Defoe gets injured while Adebayor is at the African Nations Cup and, even so, his form has been patchy at best this season. Long-term target Leandro Damaio from Internacional could be an option while Braga striker Eder is also a viable target, but while Holtby's addition is a good one, there is still more work to be done before AVB can start to dream of the Champions League next season.