AVB has made Spurs a meritocracy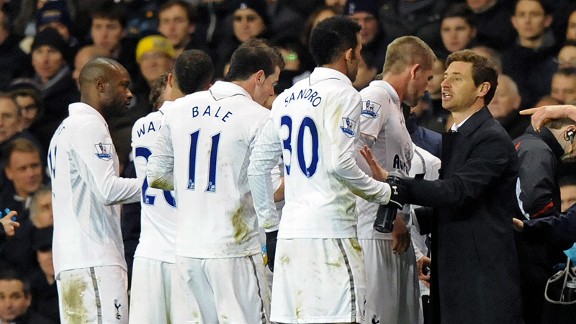 Olly Greenwood/AFP/Getty ImagesAndre Villas-Boas has quietly worked wonders at Tottenham.
Of all the qualities that Andre Villas-Boas has brought to Tottenham since becoming manager, it is the fact he has made the squad a meritocracy I find the most refreshing.

Under Harry Redknapp, you knew that when certain players were fit that they would be in the team. It's one of the reasons why Sandro's career stalled somewhat last season and Scott Parker eventually burned out.

Since AVB took charge this has changed. Now, if you play well when you're in the team, then the chances are that you will keep your place.

I was critical of the way Villas-Boas handled the arrival of Hugo Lloris, as he rotated the Frenchman and Brad Friedel, but I entirely support the fact that he didn't immediately drop the veteran goalkeeper, who was in fine form.

Kyle Naughton is another selection of the manager that I've criticised. I stand by the fact that he should never be played at left-back when he has a right-footed player in front of him on the left of midfield. However, since Gareth Bale returned to the team, Naughton has played well and it's not a bad thing that Benoit Assou-Ekotto has been made to wait his turn.

I'm sure that BAE will eventually regain his place, but Spurs' results haven't been affected in the interim and Naughton will have gained confidence for the show of faith. The youngster will have a big part to play this season, covering for both Kyle Walker and Assou-Ekotto when either is injured, or needs to be rested.

The centre of defence has seen Steven Caulker get plenty of chances and not necessarily get dropped when a more experienced player returns. Indeed, the centre-back with the most appearances for Tottenham is Michael Dawson and he started as fifth choice, despite being named as club captain.

Yet even though Spurs were clearly keen to sell Dawson in the summer and Villas-Boas seemed to have misgivings about the player, he too has been given a chance of redemption. Dawson is now a regular in the team again, having grabbed his chance to prove the Portuguese wrong.

Last season it really didn't matter what Jermain Defoe did on the pitch. Redknapp would always pick Emmanuel Adebayor and Rafael van der Vaart ahead of him if they were fit. This season Villas-Boas has kept Defoe in the team when he's scoring and it's translated into better form on the pitch.

If players think that it is impossible to change a manager's mind, they won't give their all. That's human nature. It seems at Spurs that everyone believes that hard work and performances on the pitch will be rewarded. That's a healthy situation.

It means that there's no 'them' and 'us' cliques, between the players that are in the manager's plans and those that aren't. Everyone pulls together in the right direction knowing that they have an equal chance to impress.

A lot of players and coming out and praising Villas-Boas. It genuinely seems like a happy camp. When you think of the newspaper headlines earlier this season, with the UK media clearly desperate to see a repeat of the scenes that accompanied AVB's spell at Chelsea, then it's really quite laughable.

Perhaps Villas-Boas learned a hard lesson at Stamford Bridge and it will be Spurs who benefit. Some managers can get away with ruling by fear, for some it is better to be liked and respected. When the manager in question is not much older than the players, then the latter is the more sensible option.