Who will make way for Holtby at Spurs?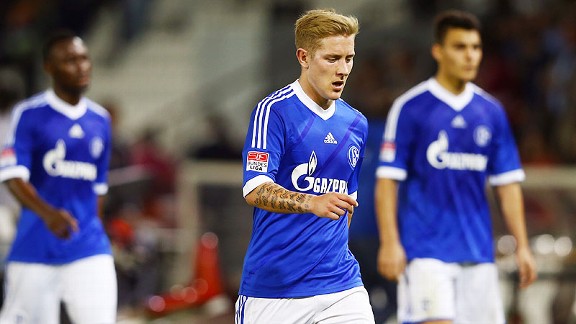 Alex Grimm/Bongarts/Getty ImagesSchalke's Lewis Holtby, center, who played in Qatar Tuesday against Bayern Munich, could be on his way to Tottenham sooner than expected
Having agreed a deal to take Lewis Holtby to White Hart Lane in the summer, there are now rumours that the German international could join the club as early as January in a cut-price deal.

Schalke have plenty of options in that area of the pitch with the likes of youngster Julian Draxler coming through the ranks, so it wouldn't be a surprise if they were amenable towards recouping some money for Holtby.

If Holtby does join Spurs in the near future - or for that matter in the summer - it will be interesting to see where he fits into the plans of a manager that he recently described as "insanely good"? Holtby has played in a variety of positions during his young career, but seems to have settled into the position of an attacking midfielder playing just behind the striker.

Sound familiar? Spurs have an abundance of players equipped to perform this role now. There's Clint Dempsey and Glyffi Sigurdsson, as well as the strong argument that this position might be the best place for Moussa Dembele to cause the most damage. Throw in the fact that Andre Villas-Boas has often selected a 4-4-2 this season and you can see that these players will have to battle for opportunities.

Of Dempsey and Sigurdsson, it is the American who has shown the best form at Spurs, though neither could be described as a spectacular success. Sigurdsson has shown flashes of his ability of late, but has generally looked like he's lacking confidence.

Dempsey has quietly gone about the business that he has been conducting at Fulham for many years - namely working hard, scoring goals and making them for others. It is he rather than Sigurdsson that is likely to play the biggest part in Tottenham's season, yet I still stand by my assessment that his stay at the club will be a fleeting one.

Let's not forget that Dempsey was bought by Spurs on transfer deadline day, after little or no speculation linking him to the club. He was clearly not a long-standing target. Tottenham had found themselves in a position where they only had Jermain Defoe and Emmanuel Adebayor to play up front, when the option of signing Dempsey emerged after his expected move to Liverpool stalled.

Dempsey's signing was not a typical bit of business by Tottenham. Spurs don't normally splash out millions on players approaching 30 and that's why I wouldn't be in the least surprised if he was moved on at the end of the season, when he can still demand a decent fee. The same rationale stands for players such as Michael Dawson, Scott Parker and even Defoe. It's just not Daniel Levy's way to let players' contracts run down and values evaporate (he leaves that to Arsenal).

Like Dempsey, Holtby is a versatile player who can perform on the flanks. It's not thought to be his best position though and I think a clue to his long-term future at the club might come from the fact that he has also spent some time playing in a deep midfield role.

AVB hasn't tried to implement the sort of true 4-3-3 formation that he employed at Porto, preferring to go with a 4-2-3-1 or 4-4-2. It wouldn't be a surprise if that switch was gradually implemented though, and Holtby's versatility, much like Dembele's, could see them lining up alongside Sandro, allowing them both opportunities to attack.

What's fascinating is that Spurs are still linked with the likes of Joao Moutinho and Christian Eriksen. You can only imagine that it signals the death knell for players such as Tom Huddlestone and Jake Livermore, who are themselves being touted for moves across the Premier League.

Holtby will be the first of many new arrivals between now and August as Villas-Boas slowly builds a squad that can implement his vision. It looks like another canny signing for Levy, with almost zero risk and yet still with the promise of a bumper reward.