Spurs exorcise the ghosts of Coventry and 1987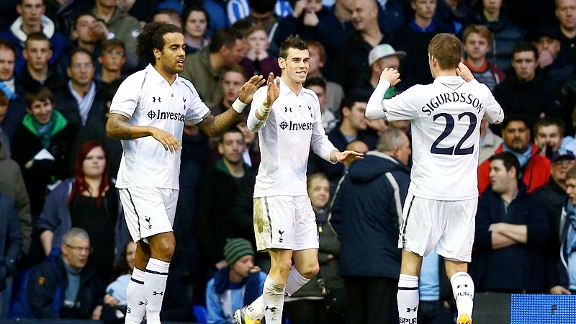 Clive Rose/Getty ImagesGareth Bale's goal helped make sure that Spurs avoided an upset at the hands of Coventry.
I was 10 years old when Tottenham played Coventry in the 1987 FA Cup Final. I watched the game on TV at home, wearing my full replica kit and in addition, a Spurs scarf and cap.

- Brassell: New reality fits with FA Cup romance
- Report: Dempsey bags brace

We were meant to win. At the time, Tottenham had won the FA Cup more times than any other team (seven) and what's more, hadn't ever lost in an FA Cup final. We also had a very exciting team in the 1986/87 season. In fact, aside from some of the football played under Harry Redknapp, it's probably the most entertaining team that I've seen during my time supporting Spurs.

We had the former England goalkeeper Ray Clemence between the sticks, with Gary Mabbutt and Richard Gough forming a quality partnership in central defence. The midfield was where things really got a bit special, boasting the talents of Glenn Hoddle, Chris Waddle and Ossie Ardiles. Finally you had Clive Allen up front. Playing with a lone striker was a somewhat revolutionary tactic at the time and Allen managed to plunder a remarkable 49 goals that season.

Nine of our team were full internationals, which was quite a lot back in the days when teams weren't stuffed to the brim with players from abroad. In contrast, Coventry's team was made up of players recruited from the lower leagues, or ones likes Cyrille Regis and Steve Ogrizovic, who hadn't quite made it at the top.

Yet on that day Spurs didn't play as well as they could, while Coventry played out of their skin. Unheralded players such as Micky Gynn, Dave Bennett and Keith Houchen had the games of their lives, as Coventry ran out 3-2 winners, thanks to an unfortunate own goal-winner from Gary Mabbutt.

It was a great game and one that many neutrals will maintain is the best FA Cup final of all time. I however, didn't enjoy it at all. I cried my eyes out and spent the hours after the match mournfully reading the programme that I'd bought that morning from a local newsagent.

For a generation of Spurs fans, that game served as a reality check and introduction to the world of pain that is such a big part of supporting Tottenham. What made it so utterly heartbreaking for a 10-year old was that the fact that the FA Cup was such a big deal in those days.

Modern fans might find it hard to appreciate that back then, winning the FA Cup had a whiff of glamour about it that winning the old Division One couldn't quite match. Nowadays of course, things are very different. The game isn't even deemed important enough to be the conclusion to the domestic season and you just don't see the likes of Coventry and Wimbledon winning the thing anymore. It's the same old teams and it's become dull.

When I say 'same old teams', I don't mean Tottenham because Spurs haven't won the FA Cup since 1991. It's about time that they did something about that and it would be somehow fitting if they were to go all the way again after beating Coventry in the third round. It might not be quite so special as the old days, but after so long, I'm sure we'd still get fairly excited.

Unlike in 1987, there was never any danger that Spurs would lose this one. With Coventry now in League 1, there is a huge gulf in quality between the teams and Andre Villas-Boas picked a very strong side to make things even more difficult for the visitors.

Coventry might have hoped that Gareth Bale would be given a rest, but instead he was there to terrorise the Sky Blues' defence and score a goal, while Clint Dempsey grabbed a brace to make it 3-0 by halftime.

Perhaps the most import aspect of a routine win was the fact that Benoit Assou-Ekotto and Scott Parker were able to get a start. Here's hoping that Assou-Ekotto in particular retains his place in Tottenham's back four.

With Coventry currently in dire financial trouble, it's hard to think of today's win as revenge. Now that I'm 35 rather than 10, I almost don't begrudge Coventry that day in the 1987 sun.... Almost. Maybe if we go all the way this year, we can finally call it quits.