Fryers signing proves Levy the ultimate transfer schemer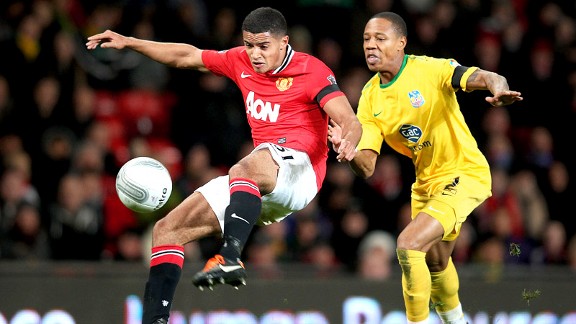 Alex Livesey/Getty ImagesEzekiel Fryers, left, has gone from Manchester United to Beligum to Spurs - and it's likely Sir Alex Ferguson isn't happy about the outcome
Daniel Levy can be a frustrating man during a transfer window, but he's also capable of doing things that make you want to hold him aloft and worship him like some sort of deity.

Thursday was one of those days. Last summer, Spurs were heavily linked with the pursuit of the young defender Ezekiel Fryers (now 20), who was out of contract at Manchester United.

Because of Fryers' age and the fact that he would be moving from one English club to another, United and Tottenham would have to agree to a compensation deal. They couldn't.

Fryers was however, able to join a non-English team on a free transfer and moved to Standard Liege. At the time, there were rumblings that Spurs had agreed to a deal with the Belgians to act as a middleman, with Fryers eventually coming to White Hart Lane for a more agreeable price than Manchester United were willing to accept.

Thursday that rumour became fact. Fryers indeed joined Spurs for an undisclosed fee (thought to be in the region of £3m, as opposed to the £6m demanded by United), just a few months after signing for Liege.

If you can hear a whistling sound like an old-fashioned kettle coming to the boil, that's the noise generated when Sir Alex Ferguson has steam blowing out of both ears for several hours. One imagines that his already fairly red face has now turned a deep shade of puce, having heard the news.

This is an example of Levy's transfer market machinations working in Tottenham's favour. The day when Spurs sold Dimitar Berbatov on transfer deadline day and squeezed an extra £5m out of United - but found ourselves with no time to buy a proper replacement - was an example of it working against Spurs.

I've no idea if Fryers is actually any good, but the fact that United offered him a new contract suggests he is. That's not important though. It's the cunning of Levy that is to be applauded on this day.

You sense that the most important thing for Levy when conducting a transfer deal is for him to personally feel he has come out on top. Sometimes that works in Tottenham's favour, other times it doesn't. When it does, it can be a glorious thing. Can you remember how you felt when Spurs signed Rafael van der Vaart for a pittance? I certainly remember how hard I was laughing when Levy somehow convinced Middlesbrough to pay £6m for Mido.

Ultimately, it is Levy's transfer policy that has put Spurs where they are now. They used to buy average players for inflated fees and lose a fortune on them. When Levy took charge, Spurs started to concentrate on signing the best young players. If they were a success, then they could be sold for a fat profit. If they were a failure, Spurs would still get a decent fee because of their age and promise.

This philosophy hasn't always paid dividends. David Bentley is clearly going to be leaving Tottenham one day on a free transfer. It should be remembered though that the sum that Spurs have lost on Bentley will be a relatively small percentage of the profit that Tottenham will make when they one day sell Gareth Bale. You win some, you lose some, but mainly Levy and Tottenham win.

Occasionally Levy will sanction a deal for an older player, but only if the transfer fee is small or non-existent. Levy doesn't want Spurs to lose money on players, which is why I wasn't surprised when Van der Vaart was sold, nor would my jaw drop if the 30-year old Jermain Defoe was sold at the end of the season, despite his current good form.

Why all this talk about selling players? Because Spurs only have a 36,000-capacity stadium and until that changes, this is the reality and the only way they can compete. Levy by the way, is working very hard to rectify that issue. When you look at some of the other football club owners around, Spurs fans can count themselves very lucky to have Levy and ENIC.