Spurs complete their Merry Christmas and Happy New Year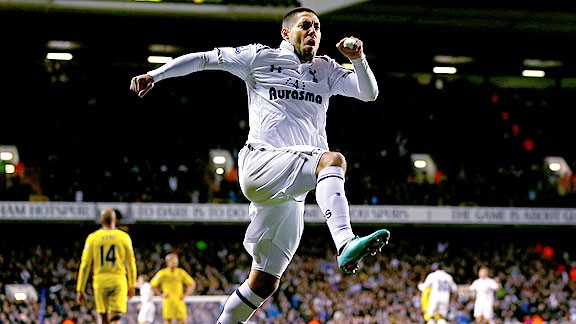 Clive Rose/Getty ImagesUnited States international Clint Dempsey scored to help seal Tottenham's 3-1 win over Reading on New Year's Day.
I am no soothsayer. So on the rare occasion that I do make a correct prediction, I reserve the right to crow about it from the rooftops.

- Delaney: Spurs' fine form
- Video: Villas-Boas seeks improvement

In my preview of the Christmas fixtures, I predicted that Spurs would get 10 points and that's exactly what they've done. It's true that I said that they'd beat Stoke and only draw with Villa (Villa!), but I can't and won't let that get in the way of my celebrations.

Incidentally, that glum and very wrong Aston Villa prediction just shows you how quickly things can change in football. Paul Lambert's team looked like they were improving and had just beaten Liverpool at Anfield, but ended up being the festive season's walking punchline.

So although the future is looking very bright for Spurs right now, we should be aware that there is always a crisis lurking around the corner. That said, I am very confident about what 2013 has in store for Spurs right now.

Tottenham didn't play that well today but still won by a handsome 3-1 scoreline. Reading are a wretched outfit whose stay in the Premier League will be mercifully brief and Spurs really should have won by a far bigger margin. We all know that this current side are struggling to score goals and yet we've still managed to grab 39 of them in 21 games which is pretty decent going.

I read today that 55% of Tottenham's shots at goal this season have been from outside the area, which is the highest in the Premier League. This demonstrates the fact that Spurs struggle to carve out real chances and today's match served as further evidence.

With Andre Villas-Boas once again going for a double right-footed combo down the left, the play was very narrow. That problem can be solved by getting Danny Rose back for next season (Villas-Boas recently stated that he wouldn't be sold) and signing a winger who can provide some like-for-like cover for Gareth Bale and Aaron Lennon.

We lack the guile in midfield to even break down a team like Reading, but we looked better in this regard once Scott Parker came on. Could a Sandro, Parker and Moussa Dembele trio be the answer? Throw in one of the midfield schemers that we've been linked with, such as Wesley Sneijder, Joao Moutinho or Christian Eriksen, and things look even more promising.

Up front, both Emmanuel Adebayor and Jermain Defoe have been guilty of being wasteful in front of goal of late. Adebayor scored with a fine header today, but he's been due a goal after a long barren spell. Defoe had a sackful of chances today, yet couldn't score. Combine the two players and you'd have the perfect striker, but separately, they both have faults. Is this the transfer window when Spurs finally get the 'world class' striker that fans have craved?

I don't expect all these problems to be solved during the January window, but if we could sort out just one then it would make a big difference going forward. One of the really positive things about Tottenham's current situation is that the problems in the team are pretty glaring. They just need to get the personnel to eradicate them (not always easy, I grant you).

Spurs are already one of the strongest teams in the Premier League and that's why they've just taken 10 points from four games. It's heartening to consider just what could be achieved with an even stronger squad.

For starters, Spurs should finish above Arsenal. How many of their players would get in the side? Three or four at most. What Arsenal do have though is the belief that they will triumph over Spurs, because in recent years they always have done it. Reversing that trend should be everyone at Tottenham's New Year resolution for 2013.