Five things we learned as Spurs beat Sunderland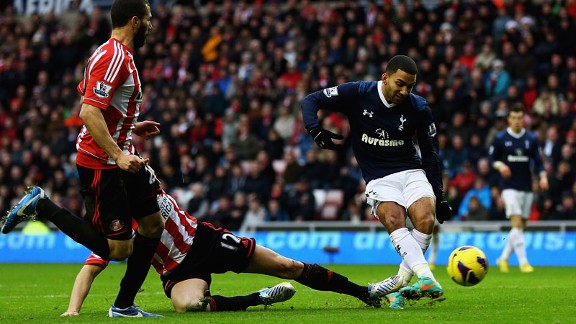 GettyImagesAaron Lennon scores to put Tottenham ahead at Sunderland
5. Aaron Lennon has stepped up a level under AVB

There was a lot of talk about how good Harry Redknapp was at motivating players, but he was equally capable of upsetting them with that constantly flapping tongue of his. A prime example was Aaron Lennon, after Redknapp deflected the blame for Tottenham's heavy Champions League defeat to Real Madrid onto the little winger. You sensed that the player's trust in the manager was gone after that incident.

- Lennon gives Tottenham victory
- Bale hits out at latest 'diving' card

Lennon certainly looks happier under Andre Villas-Boas and it's precisely because the Portuguese manager has put more trust in him. Lennon wasn't most people's idea of a team captain, but AVB has given him the armband on more than one occasion, recognising the fact that the player is a popular and influential member of the squad.

Villas-Boas also doesn't assume that players are stupid. While Redknapp thought it was best to keep things simple and let players largely do what they wanted on the pitch, AVB believes that they can handle some simple instructions. Lennon, along with the rest of the team, is working much harder in pressing the opposition when they have the ball.

It was also good to see Lennon take some responsibility when he finished beautifully after a run at Sunderland's defence, to put Spurs 2-1 up. Lennon is a good finisher when called upon, but too often passes the buck and the ball, when he's in a position where he should shoot.

4. Kyle Naughton is better with Gareth Bale in front of him

I've been hugely frustrated watching Kyle Naughton, when the right-footed player has been picked at left-back, with the equally right-footed Clint Dempsey playing in front of him.

Naughton has looked far more comfortable with Gareth Bale on the left. He played a superb ball to put in Jermain Defoe to score the opener against Aston Villa and gave another assured performance against Sunderland.

With the opposition full-back unable to defend narrowly when faced with the threat of Gareth Bale, Naughton is given more time to operate and looked more confident going forward. The bad news is that Bale will miss the game against Reading due to suspension, which brings us too...

3. 'Boy Wolf' Bale only has himself to blame

Anyone who has been following my columns during this season will know that I predicted that Gareth Bale's continual diving would eventually result in him being penalised when he's actually been fouled.

Being right doesn't make me happy. On this occasion Bale's knee was clipped by Craig Gardner, before the Sunderland player put his hands on the Spurs attacker's chest. It should have been a penalty.

Instead the referee booked Bale for diving. It was his fifth yellow card of the season and he picked up a one-match ban. However, I can't blame the official for the decision. I too thought that Bale had gone to ground easily before a replay showed that Gardner had connected with his knee. The impression that you make on people counts.

2. Spurs have a pressing concern

I've very impressed at how Villas-Boas' team works hard to press the opposition when they have the ball. It affords them no time to get comfortable and forces them into making mistakes, allowing Tottenham to quickly regain possession.

Every man is expected to contribute to this ethic, even the attackers. A lot of Spurs fans (myself included) have pondered why Rafael van der Vaart was sold and Dimitar Berbatov wasn't bought. Their lack of enthusiasm when it comes to chasing back is probably the answer.

1. Hugo is the boss

Spurs really didn't deserve to go into half-time behind to Sunderland and perhaps the player who had the most reason to be aggrieved was Hugo Lloris, who made a great save from Steven Fletcher, only to see the ball fall to John O'Shea for an easy tap-in.

Otherwise Lloris was faultless. Sunderland are a threat from set-pieces, but Lloris was commanding. It's true that old-fashioned Englishmen like myself, would always prefer to see a catch than a punch, but at least Lloris has the good grace to strike his uppercuts with enough power to send the ball into the stratosphere and well away from danger.