Why Spurs could be special in 2013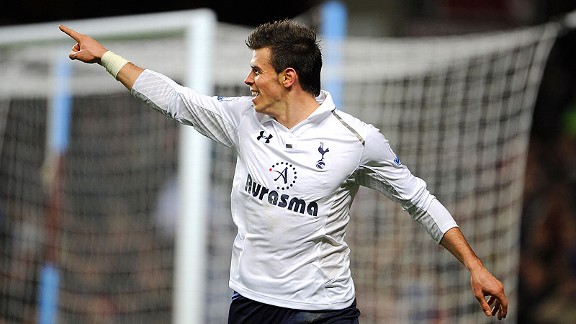 Michael Regan/Getty ImagesGareth Bale led the way on Wednesday bagging a hat trick in Spurs' romp over Aston Villa.
If you'd told me at half-time during today's match against Aston Villa that Spurs would win 4-0, I wouldn't have been surprised. I also wouldn't have been surprised if the game had finished 1-0 to Villa.

It's fair to say that Spurs struggle to break teams down. Yet when Spurs do get a goal and the opposition is forced to attack, then they are capable of notching a few quite quickly.

- Jolly: Bale's versatility vexes Villa
- Match report: Aston Villa 0-4 Tottenham
- Friedel inks new deal

The first-half was a frustrating affair. The official statistics show that Tottenham won 15 corners, but such was their dominance, it seemed nearer to 50.

You sensed that Spurs could have been given 100 corners and still not scored. At one point last season, Spurs had gone longer without scoring from a corner than any top flight club in Europe. Tottenham's goal-threat from corners hasn't improved much under Andre Villas-Boas. Spurs might as well have been given 15 goal kicks for all the good it would have done.

In the first-half, Tottenham couldn't t summon the courage or conviction to make the killer move that will see them over the line.

Then, one goal later and Spurs are suddenly notching them up. Some neat build up play took Spurs to the edge of the Villa area, before the ball was played back for Kyle Naughton to make a killer pass to set up Jermain Defoe.

After the opener, the floodgates truly opened. Gareth Bale took advantage of some slack play at the back from Villa to burst through, round Brad Guzman without falling over theatrically, and put the ball into an empty net.

Bale grabbed his second when Aaron Lennon pulled the ball back for him to smash home, before completing a hat-trick when he put the finishing touch onto Gylfi Sigurdsson's pass.

Spurs deserved to thrash Villa buy such a scoreline but on another day they might have struggled to have won. Spurs really lack the type of player with the sort of guile to break down a team that is determined to keep it tight. Once they've scored however, the opposition push forward and Spurs have exactly the sort of personnel suited to hitting teams on the break.

It has been reported in Italy that Spurs are close to signing Wesley Sneijder. To be honest, I had to check that it was really Christmas Day rather than April Fools' when I saw that story, but a player of Sneijder's type is exactly what Tottenham need, even if I do suspect that they'll have to sign a lesser name than the Dutchman.

The partnership between Emmanuel Adebayor and Defoe has not proved to be as fruitful as one might have thought, yet with Clint Dempsey and Sigurdsson having failed to convince when playing behind the striker, Villas-Boas has ignored his initial instincts and stuck to 4-4-2 recently.

I'm incredibly optimistic about Tottenham in 2013. Spurs fell apart in the second-half of last season but I think that they're going to get even stronger this time out. You can see that this side is a couple of key players away from being something special. Villas-Boas had proved himself by getting Spurs into contention by the midway point, so now is the time for Daniel Levy to back him in the transfer market.