Wanted: World-class striker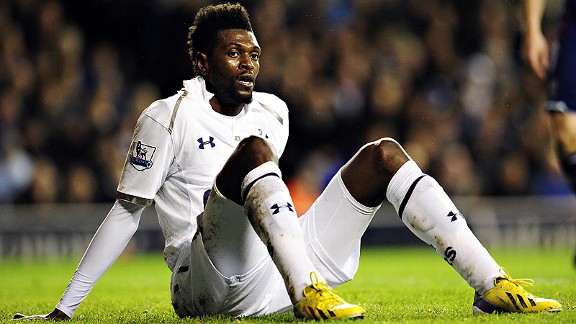 Glyn Kirk/Getty ImagesEmmanuel Adebayor, showing his frustration in Saturday's 0-0 draw with Stoke, has just one goal this season
No one likes a 0-0 draw. Games spark into life after a goal, no matter which team scores. But when neither side manages to break the deadlock, a match can play to conclusion without seeming to have really gotten going.

Yet like all results, a goalless draw should be looked at on its merits. A 0-0 draw at home to Reading - which reigning Premier League champions Manchester City barely avoided Saturday - would be unforgivable given the Royals' lack of defensive stability.

However, Spurs' 0-0 draw Saturday with Stoke against a team of the Potters' defensive capabilities is nothing to be ashamed of. No team has conceded fewer goals this season than Stoke. They have only allowed three at home, while only three other clubs have given up fewer goals on the road.

So when Stoke are in the mood to defend as they were Saturday, then you need to find something pretty special to break them down. I think it's fair to say Tottenham could most optimistically described as 'fairly good' when it comes to attacking. But right now Spurs are definitely not 'something special'.

Consider the evidence. Jermain Defoe and Emmanuel Adebayor are not gelling as a striking partnership, with the latter having scored only one league goal. On the wings, Spurs have no alternative to Gareth Bale and Aaron Lennon when things aren't working for them, other than switching them to alternate wings - which we know doesn't work.

In central midfield Spurs are still trying to find the right balance having lost the qualities of Luka Modric and Rafael van der Vaart. New signings such as Clint Dempsey and Gylfi Sigurdsson have struggled to find their feet, while Moussa Dembele playing deeper than where he should perhaps causing the most damage.

There's basically lots of problems and as long as this remains the case Spurs will often suffer frustrating results. The good news is that there are a lot of other flawed Premier League teams, which is why there is such a small gap between third place and mid-table. No one is putting together a run of wins and points are being dropped like piping hot potatoes.

Saturday Spurs had 57 percent of possession with 14 shots on target. They recorded a similar number of goal-bound efforts in the 1-0 win against Swansea. Defoe does have nine goals this season, but Spurs overall are still lacking the killer instinct.

I was one of the first to scoff at Sir Alex Ferguson when he bought Robin van Persie. Twenty-five million pounds seemed a lot for a player who only had one injury-free season, especially when Manchester United seemed to need a central midfielder more.

Yet it's proved to be an inspired buy. Van Persie can be relied upon to score more often than not when a chance comes his way. Such players don't come cheap but are worth their weight in gold. They win you games like Saturday's, when only a perfect finish is going to make the difference.

Spurs have been waiting for one of these mythical 'world-class strikers' for many years. The truth is the finished product is extremely difficult for a club like Tottenham to just go and buy these days. Spurs need to take a chance on someone before the rest of the world starts beating their door down, just as they did with Dimitar Berbatov.

Until Spurs get someone like that there's not much point in moaning at results like Saturday's. These things will happen with regularity until Spurs find a striker who will head home the type of majestic cross that Bale put in yesterday, rather than sending it over the bar.