The Europa League finally gets exciting for Spurs fans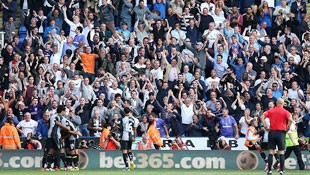 Richard Heathcote/Getty ImagesWho needs the Champions League? Spurs fans have plenty of reasons to be excited about their team's Europa League campaign.
After the excitement of the Champions League draw, in which we saw the plum Real Madrid v Manchester United tie and hilariously, the very difficult game against Bayern Munich for Arsenal, we patient Spurs fans settled ourselves down and waited several hours for the more humdrum Europa League offering.

- Bale returns to training

At least it was meant to be humdrum. Instead, Spurs were given the toughest game they could have possibly gotten, followed by the probability of a match against one of the giants of world football, should they progress.

Do you know what? I wouldn't have it any other way. When Spurs qualified for the Champions League a couple of seasons ago, it was a wonderful thing to have the champions of Holland, Germany and Italy in the group. As if that wasn't enough, we were then served up a large portion of AC Milan, followed by a generous serving of Real Madrid.

Some might have preferred an easy route that allows progression to the latter stages, but there are some really good teams still left in this year's Europa League and Spurs would have had to play one eventually. This way, the games are at least interesting and if you get knocked out, you know that you wouldn't have been good enough anyway.

I can imagine that plenty of Spurs fans will be looking to make the easy trip over the Channel to Lyon. They're not the team that they once were, when they won title-after-title in France, but they'll still give Spurs a good match and have some fantastic players such as Yoann Gourcuff.

They also have a certain Steed Malbranque playing for them and I think that there's a fair chance that the French TV commentators will think we're booing him every time he gets the ball. All together now, "Steeeeeeeeeeeeeeed!"

Then if Spurs win, they'll meet their old foes, Inter Milan. Now some spoilsports will be muttering something about 'CFR Cluj'. I say to them that I have no interest in that potential meeting of footballing minds and will not officially recognise it should the game occur.

No, bigger is better people and what's bigger than the San Siro? I might be guilty of getting slightly ahead of myself here, but Spurs are playing at that old ground so often these days that they must practically have tenants' rights.

Those games against Inter Milan in the Champions League were truly memorable. The first, because it introduced Gareth Bale to the world stage and proved to everyone just how good he was. The second, because Spurs beat the reigning European champions at White Hart Lane and if you were there that night, you'll know that it was a marvelous feeling that we'd struggle to recreate with the arrival of the good people from Cluj.

I think that the impossible has happened. I'm actually really excited about the Europa League. It might just be the fact that I'm already giddy with Christmas bonhomie, but no... I actually think that I am excited about the Europa League. Who needs the Champions League? This is where the action's at.