Spurs holiday fixtures reasons to be jolly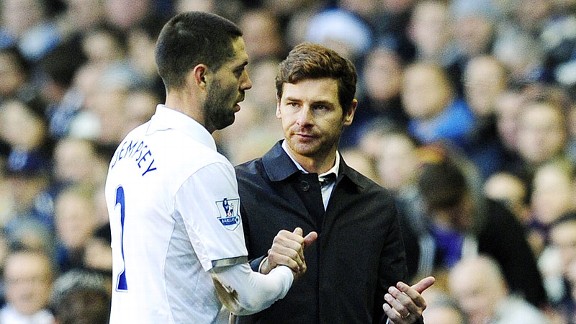 GLYN KIRK/AFP/Getty ImagesTottenham's Clint Dempsey and manager Andre Villas-Boas have an opportunity for a producitve festive period, when Spurs play four lower-placed opponents
It's almost Christmas and Spurs fans have plenty of reasons to feel festive. Despite a season in which they have had to contend with the pressures of a new manager, losing key players and suffering some lengthy injuries, Spurs are sitting pretty in fourth place.

There's every reason to think the team could enter the New Year happier, when you delve underneath the tree and grope the presents left by Santa's little fixtures fairies. Stoke at home, followed by Aston Villa and then Sunderland away, before just what you always wanted - Reading at home.

As Christmas fixture lists go it really would have been greedy to have asked for more. Only Stoke are in the top half of the table in ninth, where they seem to finish every season. It would be a big ask to beat Stoke, Villa and Sunderland, but they are certainly all winnable games. As for Reading Spurs should be able to field the NextGen side and still win. A haul of eight to a perfect 12 points surely awaits.

Now that I've lulled you into a false sense of Christmassy contentment, I'm going to metaphorically shout 'Bah Humbug!' Because very often games that looked so promising when sat gift-wrapped under the tree fail to bring a smile when you get the paper off.

Take the 2008-09 season for instance. Just the three league games. Newcastle away, Fulham at home, West Brom away. How many point are you guessing? A cautious four? Six or seven perhaps? Try one. One solitary point for Christmas.

Or 2003-04, where Spurs had just two league fixtures over the festive season, away to Portsmouth and home to Charlton - and lost both. I could go on, but delving too far back into Tottenham's murky Premier League past is a depressing pursuit not suited to this time of year.

With the games coming thick and fast, issues that could be dealt with over the matter of a month suddenly have to be faced in just a few days. Take the suspension of Everton's Marouane Fellaini for instance. He now misses all of Everton's three remaining matches in 2012. Arguably he's been their most important player and now they have to work out how to manage without him, while also keeping players fresh during a crowded schedule.

With Emmanuel Adebayor already injured, just imagine what would happen in Spurs' Christmas games if Jermain Defoe picked up an injury or suspension against Stoke. Actually, please don't imagine that. I took a brief glimpse and it involved a lot of players taking turns to play out of position.

Though I may be duty-bound to present to you both sides of the Christmas coin, I'm still confident Spurs will be strolling into 2013 with a spring in their step. Don't forget that they're welcoming back the likes of Benoit Assou-Ekotto, Gareth Bale and Scott Parker, just at the time when the squad requires plenty of options.

Stoke are in quietly effective form at the moment and haven't lost since early November. They're struggling to score though and I'm confident that with Bale back Spurs will take three points.

Spurs should also be disappointed if they don't beat Sunderland, while Reading turning up at your ground is like a heavyweight peering across the ring and spotting a featherweight climbing in through the ropes.

Villa's the one where I fear Spurs will slip. After a shaky start Paul Lambert's brave calls in the transfer market are starting to pay off. A draw might be a good result in Birmingham.

So by my calculations that makes it a bumper 10 points for Christmas. No wonder that so many people get all religious at this time of year when such joyous things can occur. That said, don't come complaining to me if we don't all get what we want this year . . . .