Spurs need to learn to live without Bale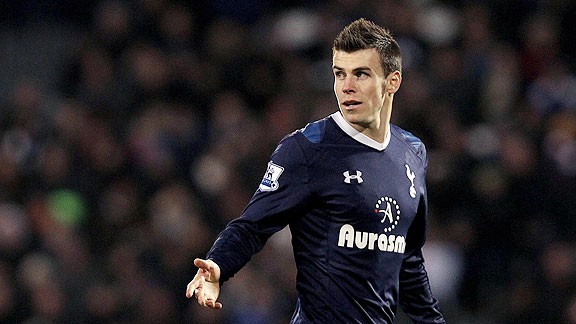 Jan Kruger/Getty ImagesGareth Bale missed Sunday's clash with Swansea, yet Spurs still managed to earn the victory.
Anyone watching today's game on television may have wondered why the atmosphere at White Hart Lane seemed so limp and Emirates-like. I can give you the reason in one word. Alcohol.

If you were to draw up a Venn diagram between people who go to football matches and people who enjoy drinking excessively, then you'd fine a fairly large cross-section in the middle that enjoy both pursuits.

- Ubha: Sleepy Spurs stop Swansea
- AVB warns Redknapp off Spurs duo

So when you put a fixture on at 1:30 on a Sunday afternoon, which is rather too close to the morning of the night before during Christmas party season, and yet too early for the hungover masses to have gotten drunk again, then you can expect a muted atmosphere.

The eerie silence at White Hart Lane today wasn't helped by a disjointed and frustrating performance on the pitch. Once again Spurs lined up with two right-footed players on the left and once again it didn't work.

You can get away with one right-footed player at either left-back or left-midfield but never both. We were cutting back inside so often this afternoon that it was giving me terrifying flashbacks to the days of Mauricio Taricco.

Clint Dempsey at least plays the role of a right-footed left-midfielder well. Kyle Naughton however, looks totally uncomfortable with the role of left-back. It might say that he is an 'accomplished' left-back on Football Manager 2013, but it's not remotely true.

That's not to diminish Naughton as a player. I was impressed by his performance at right-back against Fulham and think that there's a future for him as a squad player at Spurs, even if I can't ever see him displacing Kyle Walker.

I don't think that it's doing his confidence any good to be continually played out of position and he doesn't look like he wants the ball. It wouldn't be a huge problem if he had Gareth Bale in front of him but with Dempsey looking to cut inside, then Naughton is required to get forward and make runs beyond the midfielder.

I'm not sure if we'll sort out our left-sided position in January. If we don't, then it's definitely something that we need to look at in the summer. The long-term injury of Benoit Assou-Ekotto and the recent absence of Bale have caused us big problems.

It has put Spurs in a position where Andre Villas-Boas is picking his best available players and pushing some of them into unnatural positions, rather than being able to select like-for-like replacements.

How do you replace Bale you may well ask? The answer is that you can't replace him with a player that is as good, but you can try to find a player that boasts similar assets so the disruption to the team is minimal. Fast and left-footed would be a start.

The question of how to replace Bale is one that we're going to have to properly address soon, as he's clearly going to leave the club in a season or two. While we're still fortunate enough to have him at Spurs, then we need to at least have someone who can step into his shoes. Give Andros Townsend a chance to prove or disprove himself, I say.

Without Bale we looked awkward today and yet we still created plenty of chances against a Swansea side that defended very well and knew how to keep the ball. There's not much wrong with this side, which is why the problems we do have are so frustrating. That said, sometimes you have to win ugly and we did that today to put ourselves into fourth place.

Both Bale and Assou-Ekotto could return against Stoke next week, and if they do, then I expect to see a more coherent performance. If we want to avoid more difficult afternoons like this one, then we need to find proper backup to both of these players.