Parker and Assou-Ekotto will give Spurs a pre-January lift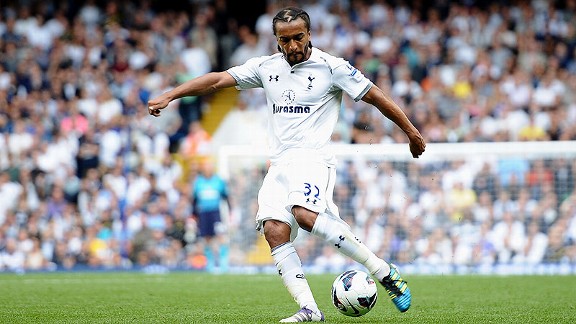 Laurence Griffiths/Getty ImagesTottenham's Benoit Assou-Ekotto in action earlier this season before his injury. The defender is nearing full fitness for Spurs.
Lots of clubs are eagerly eyeing the January transfer window as they look to strengthen for the second half of the season. Spurs are too, but it looks as if the squad is about to get a boost before we even see in the New Year.

Scott Parker has yet to play a game this season while Benoit Assou-Ekotto has only played four times before suffering a knee injury. Both are now in training and should be back in the first team mix before long.

- Assou-Ekotto nears return
- Dempsey voted U.S. player of the year

They have been missed. It's easy to forget how influential Parker was in the first half of last season before Harry Redknapp ran the 32-year-old into the ground, due to Redknapp's reluctance to rotate his squad (needlessly, considering that he had Sandro and Jake Livermore at his disposal).

Parker doesn't catch the eye in the same way that the energetic Sandro does, but if you watch him closely you begin to see why he is so highly regarded. His positioning from a defensive standpoint is very good. Once he has the ball, he passes it simply, very rarely giving away possession and then immediately makes himself available for a return ball.

Tottenham's possession stats are well down on last season. Luka Modric's absence is of course a big factor, but I'd argue that Parker's spell on the sidelines has also hit Spurs when it comes to keeping the ball. He will bring a calming influence that the more frenetic Sandro and Moussa Dembele lack.

Parker will also bring some much needed leadership to a side that looks short of a natural captain. We've seen a lot of collapses this season and that can be partly attributed to Spurs lacking the sort of player that demands high standards and concentration from those around him.

So where does Parker fit back into Andre Villas-Boas' side? That's an intriguing question. When he was paired with Sandro last season I thought that the side lacked creativity and that they often got in each other's way -- much in the same way that Sandro and Livermore were criticised when paired together earlier this season.

However, under Villas-Boas, they are likely to receive a lot more in the way of a tactical briefing than they ever were under "just run around a lot" Redknapp. Maybe it could work and it might be a good option away from home with Dembele pushed a little further forward.

As much as Spurs missed Parker, I think that they've missed Assou-Ekotto even more. Jan Vertonghen has done a fine job standing in for him at left-back, but I don't think that there will be many Spurs fans disappointed when he is eventually able to return to the centre of the defence, not least because it will mean that William Gallas can finally be dropped.

The centre-back pairing will be stronger with Vertonghen's return and the squad will also be stronger in the left full-back position. As good as Vertonghen is going forward, Assou-Ekotto offers even more of a threat and possesses a stronger crossing ability. He has also built up a very keen understanding with Gareth Bale over the years.

It's easy to dismiss Assou-Ekotto because of his occasional tendency to switch off, his ill-thought out tweets and the fact that he looks like the main character from the Hair Bear Bunch. He's a deceptively good footballer though, one of the best left-backs in the Premier League and definitely a player that will improve the strength of the first team.

These long-term casualties are like new signings and Younes Kaboul promises to make the same impact when he returns in January. If Spurs throw in a couple of signings as well, then the squad will be looking much stronger just at the time when you need strength in numbers.