Spurs left struggling without Bale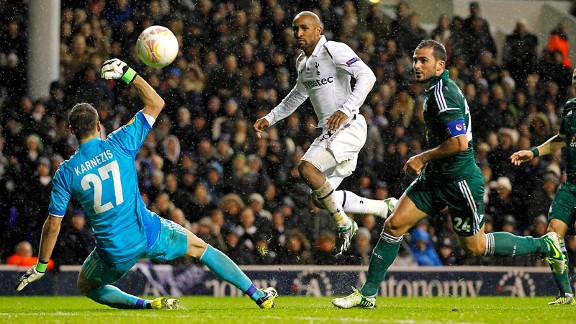 Ian Kington/AFP/Getty ImagesJermain Defoe's insurance goal put away a game which was much too close for comfort for Spurs
So Spurs are through to the Europa League knockout stage and managed to do so without even having to sack their manager like Chelsea.

Spurs only needed a draw against Panathinaikos Thursday and eventually won, 3-1. It sounds a comfortable win, but in reality it was more difficult for than it needed to be and Spurs could have easily gone behind in the second half.

The big issue was down the left. Gareth Bale was out injured and unavailable on the left flank, which has already been deprived of Benoit Assou-Ekotto for most of the season.

- Late strikes save Spurs

Clint Dempsey replaced Bale on the left of midfield. It is a position he is very used to, having often played there for Fulham. Of course, he offers something completely different from Bale, cutting in from the left onto his right foot, rather than beating his man on the outside and delivering a cross.

With Aaron Lennon employing width on the right side of midfield, Dempsey's inclination to roam wouldn't be a problem if not for the fact that behind him at left-back there was another right-footer in Kyle Naughton.

The result of having two right-footed players on the left was Panathinaikos never had to worry about Spurs' players getting behind them down that flank and were able to shift across, making the play more congested in the centre and difficult for Tottenham to find space down the right.

Dempsey might not have influenced the game down the left wing, but did have a huge influence on the game, supplying the pass from a central position for Emmanuel Adebayor's opening goal and putting Spurs back in front with a great header that ricocheted off the back of Panathinaikos keeper Orestis Karnezis.

Naughton, however, had a complete shocker. He was quietly effective at right-back against Fulham Saturday. He didn't attack as much as you might expect that day, but looked solid at the back.

Thursday he looked far more awkward. Forced to cut inside every time he was met by the opposition, Naughton was even more reluctant to get forward. As the game went on, he seemed to grow less confident in defence.

The goal on which Panathinaikos equalised resulted from Naughton losing the player he was meant to be marking. It's not the first mistake he's made playing this position this season, and there is a danger that he will completely lose confidence from continually being selected in a position where he is not comfortable.

With Bale set to miss the Everton game, I would hope left-footed Jan Vertonghen would revert to fullback. He doesn't get forward as much as BAE from that position, or as much as you'd want when a player like Dempsey is in front of him, but at least he will provide Spurs with some natural width on the left.

What it goes to show is this squad still has a lot of missing pieces. If Bale or Lennon get injured, Spurs don't have a like-for-like replacement, meaning they have to change the entire shape of the team.

With both Bale, Vertonghen and allegedly Naughton able to fill in at left-back if BAE is unavailable, management obviously felt they could afford to let Danny Rose go out on loan. That has proved to be a mistake. Rose will never be a world-beater, but he'd be a damn sight more effective at left-back than Naughton.